January 01,2014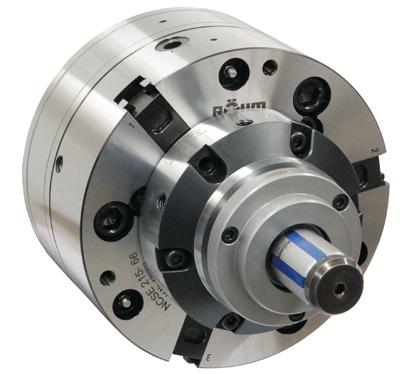 The DURO-NCSE Flex power chuck from Röhm Products of America provides a quick and simple way to change out jaws and clamping tools.
Especially beneficial to those shops needing frequent clamping tool changes, the power chuck system allows them to switch from mandrels to collet chucks to face drivers and centers without having to the remove the power chuck from the machine tool. Plus, the DURO-NCSE Flex is ideal for short-bar-feeding applications in that it adds increased workpiece support at the machine tool spindle.
In use, the DURO-NCSE Flex works as a standard three-jaw chuck. And because the system features a special bayonet-style connection, shops change only an attachment system to switch clamping devices, such as for one part-machining operation to the next.
The DURO-NCSE Flex, in short, 4'-bar-feeding applications, reduces the amount of prep cutting needed as well as material waste. As opposed to cutting 12'-long bar stock three times in 3' lengths and ending up with four pieces of unusable remnant stock, the DURO-NCSE with an added dead-length collet chuck generates more support for longer 4' sections. Thus, shops cut bars only twice and end up with one less piece of remnant.
At the base of the DURO-NCSE Flex system series is a case hardened steel chuck that features individual unlocking jaws for easily moving, changing and turning them. High accuracy holding and precision gripping ensures dependable performance, especially in extremely high-speed applications. Other variations within the series include the DURONCSE Flex KZZT/KZZT-A collet chuck and DURO-NCSE Flex ABSIS mandrel models.
Both the KZZT/KZZT-A and the ABSIS configurations provide part deformation-sensitive workholding, especially for thin-walled parts, and allow for quick adjusting. The KZZT/KZZT-A secures parts radially on their O.D.s and accommodates round, hexagon and square bar stock with its full through hole, while the ABSIS clamps workpieces radially from their I.D.s using an expandable segment sleeve.