April 30, 2020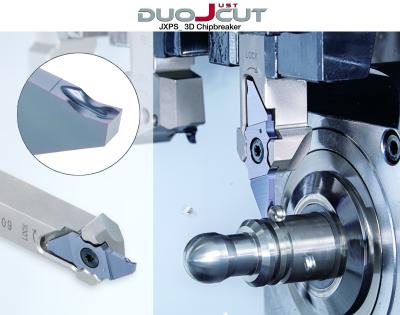 Tungaloy is expanding DuoJust-Cut line of indexable parting tools to include JXPS inserts that features a pressed-in 3D chipbreaker for reliable chip control in during parting operations on Swiss-type lathes.
DuoJust-Cut features innovative insert clamping ensuring tool rigidity and stability in various parting operations. In addition to existing JXPG insert with a ground in chipbreaker on the rake face, the new JXPS insert incorporates a 3D chipbreaker pressed in to its "dual-rake" cutting edge which is designed to promote optimal chip control and evacuation without compromising surface integrity.
Four different types of DuoJust-Cut inserts fit in the same pocket of the tool holder, allowing an optimal insert cutting depth to be selected for a given application. An optional parting holder is also available when machining close to the sub-spindle is required.
At a Glance

JXPS insert with a pressed-in 3D chipbreaker
Innovative insert clamping to ensure machining reliability
Optimal insert cutting depths can be selected for given operations ensuring process security
Holder option is available for machining close to the sub-spindle
Total of 8 inserts to be introduced
Related Glossary Terms
chipbreaker


chipbreaker

Groove or other tool geometry that breaks chips into small fragments as they come off the workpiece. Designed to prevent chips from becoming so long that they are difficult to control, catch in turning parts and cause safety problems.

parting


parting

When used in lathe or screw-machine operations, this process separates a completed part from chuck-held or collet-fed stock by means of a very narrow, flat-end cutting, or parting, tool.

rake


rake

Angle of inclination between the face of the cutting tool and the workpiece. If the face of the tool lies in a plane through the axis of the workpiece, the tool is said to have a neutral, or zero, rake. If the inclination of the tool face makes the cutting edge more acute than when the rake angle is zero, the rake is positive. If the inclination of the tool face makes the cutting edge less acute or more blunt than when the rake angle is zero, the rake is negative.
Additional Products from Tungaloy-NTK America, Inc.