January 13,2013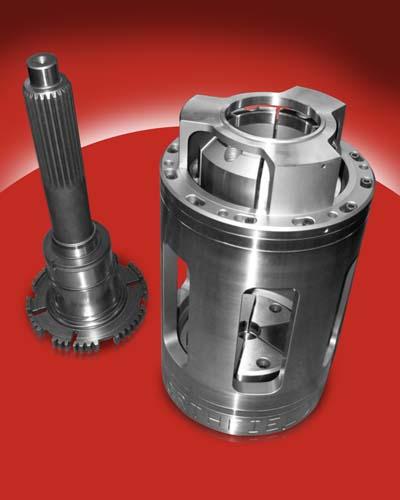 Northfield Precision Instrument Corp. introduces the Model DPH-800 double diaphragm chuck. On this custom-made chuck, the client had to grip on two different diameters (top and bottom). You can see two sets of jaws in the picture. The part was exceptionally long so Northfield had to manufacture the body out of a 220lb slug about 10 inches in diameter and 11 inches in length.
This chuck was extremely accurate, only running out about 1µm (on diameter) along the entire length of the chuck, which was more than 15 inches. The end user had to perform a grinding operation on the inside tapered bore of this part (a drive axel for a Volvo truck). This chuck also was designed with an air-detect feature so the machine will know when the part is properly placed in the chuck.
Related Glossary Terms
chuck


chuck

Workholding device that affixes to a mill, lathe or drill-press spindle. It holds a tool or workpiece by one end, allowing it to be rotated. May also be fitted to the machine table to hold a workpiece. Two or more adjustable jaws actually hold the tool or part. May be actuated manually, pneumatically, hydraulically or electrically. See collet.

grinding


grinding

Machining operation in which material is removed from the workpiece by a powered abrasive wheel, stone, belt, paste, sheet, compound, slurry, etc. Takes various forms: surface grinding (creates flat and/or squared surfaces); cylindrical grinding (for external cylindrical and tapered shapes, fillets, undercuts, etc.); centerless grinding; chamfering; thread and form grinding; tool and cutter grinding; offhand grinding; lapping and polishing (grinding with extremely fine grits to create ultrasmooth surfaces); honing; and disc grinding.