August 01,2015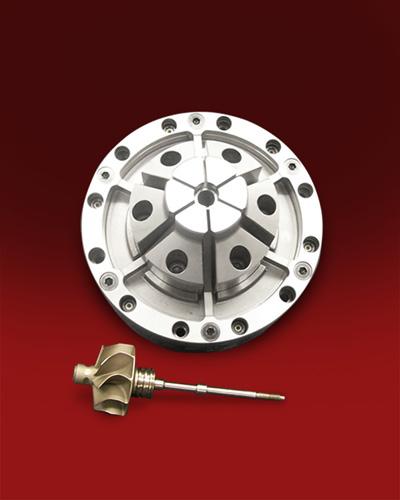 Northfield Precision Instrument Corp. specializes in developing custom solutions for difficult problems. In this particular case, Northfield designed a special version of its Model DPH-500 diaphragm chuck (.000010" TIR) with custom top tooling attached.
The center of this chuck has a deep bore that swallows and guides the tip of the part onto a spring-loaded center to support the part's tip while the part's underside rests on an axial locator (spider). Once clamped, the ODs of the turbo fins are ground to an exact tolerance.
Related Glossary Terms
chuck


chuck

Workholding device that affixes to a mill, lathe or drill-press spindle. It holds a tool or workpiece by one end, allowing it to be rotated. May also be fitted to the machine table to hold a workpiece. Two or more adjustable jaws actually hold the tool or part. May be actuated manually, pneumatically, hydraulically or electrically. See collet.

tolerance


tolerance

Minimum and maximum amount a workpiece dimension is allowed to vary from a set standard and still be acceptable.