November 16, 2021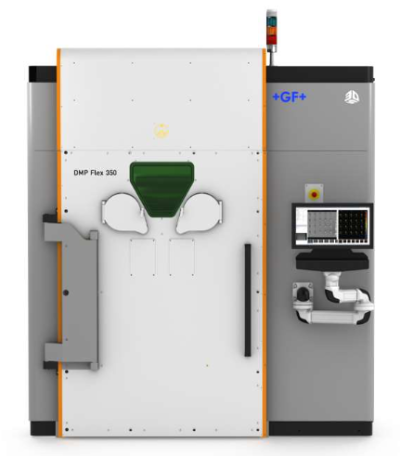 At EMO Milano 2021, GF Machining Solutions presents the DMP Flex 350 metal 3D printer, suitable for 24/7 part production. With a maximum part build size of 275 mm x 275 mm x 380 mm (10.83" x 10.83" x 14.96"), the DMP Flex 350 enables more efficient production of dense, pure metal parts and includes improved gas flow technology for uniform part quality across the entire build area.
The machine's repeatability and top quality result from a pure atmosphere during printing, a consistently low-oxygen environment with fewer than 25 parts per million. This solution ensures excellent microstructures, very high material density and stable mechanical properties.
Fast, bidirectional material deposition enables high-throughput 3D metal printing. At the same time, high printer utilization and short changeover times help shorten part-production cycle times, while functional modules allow for maximum uptime and further efficiency for a lower total cost of system ownership.
The DMP Flex 350 comes ready to run metal alloys with thoroughly tested build parameters for Inconel, titanium, cobalt chrome, aluminum and steel.
Related Glossary Terms
alloys


alloys

Substances having metallic properties and being composed of two or more chemical elements of which at least one is a metal.

mechanical properties


mechanical properties

Properties of a material that reveal its elastic and inelastic behavior when force is applied, thereby indicating its suitability for mechanical applications; for example, modulus of elasticity, tensile strength, elongation, hardness and fatigue limit.