November 26, 2018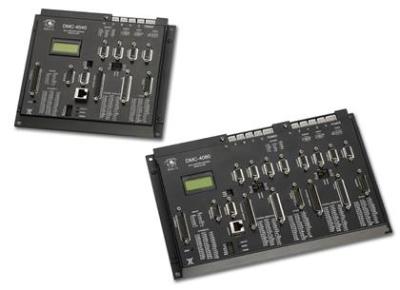 The DMC-40x0 motion controller is Galil's highest performance, stand-alone motion controller. It belongs to Galil's latest generation motion controller family, which accepts encoder inputs up to 22 MHz, provides servo update rates as high as 32 kHz, and processes commands as fast as 40 microseconds-10 times the speed of prior generation controllers.
The DMC-40x0 is a full-featured motion controller packaged with optional multi-axis drives in a compact, metal enclosure. The unit operates stand-alone or interfaces to a PC with Ethernet 10/100Base-T or RS232. The controller includes optically isolated I/O, high-power outputs capable of driving brakes or relays, and analog inputs for interfacing to analog sensors. The DMC-40x0 controller and drive unit accepts power from a single 20-80 VDC source.
The DMC-40x0 is available in one through 8-axis formats, and each axis is user-configurable for stepper or servo motor operation. With a powerful RISC processor, the DMC-40x0 controllers provide such advanced features as PID compensation with velocity and acceleration feedforward, program memory with multitasking for simultaneously running eight applications programs, and uncommitted I/O for synchronizing motion with external events. Modes of motion include point-to-point positioning, position tracking, jogging, linear and circular interpolation, contouring, electronic gearing and ecam. Like all Galil controllers, programming the DMC-40x0 is simplified with two-letter, intuitive commands and a full set of software tools, such as GDK for servo tuning and analysis.
Related Glossary Terms
interpolation


interpolation

Process of generating a sufficient number of positioning commands for the servomotors driving the machine tool so the path of the tool closely approximates the ideal path. See CNC, computer numerical control; NC, numerical control.