June 30, 2023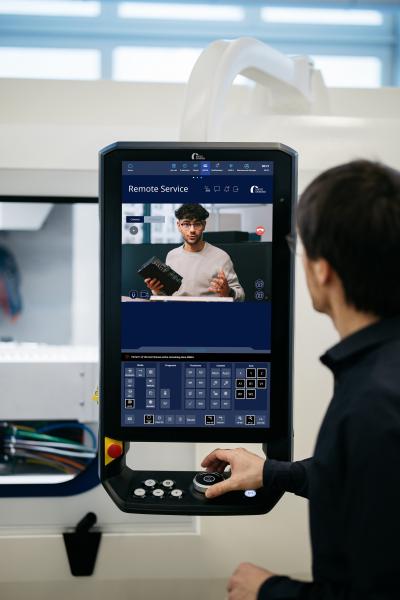 What makes working on machines in an industrial facility easier? "That I can get help quickly and easily when the machine stops" could be the answer from a machine operator. A maintenance employee may say, "I have an overview of all upcoming maintenance tasks and thus no longer miss any important schedules." The answer from the production manager might be, "I can also see whether all the machines in my production are running when I'm on the road."
Different user groups have varying demands on modern production. As one of the world's leading machine tool manufacturers, the UNITED GRINDING Group offers digital assistance systems that make work easier for users of all kinds.
Remote Service
Remote Service offers simple and fast assistance. For example, in the event of machine downtime, UNITED GRINDING North America customers can request service with the press of a button. This service request can be submitted by the customer via a smartphone and the corresponding Digital Solutions app, or via the Customer Cockpit.
If the machine is equipped with the new Customer Experience Revolution (C.O.R.E.) operating system, Remote Service is even possible directly on the machine. In addition, a video conference can be conducted via the integrated camera in the C.O.R.E. panel. The whiteboard function also makes sharing drawings and notes on pictures or documents easy. This way, the UNITED GRINDING Customer Care can assist instantly, saving a lot of time and money.
Service Monitor
The Service Monitor relieves those responsible for maintenance by clearly displaying all the important maintenance tasks based on the current machine's operating hours. The Service Cockpit can be used to centrally manage, monitor and document maintenance due dates for several connected machines.
Only necessary maintenance work is displayed. As a result, unnecessary work is avoided. At the same time, the necessary work that ensures the smooth operation of a machine is not forgotten. Thanks to this optimal maintenance and care, the availability and working life of the machine is increased, which in turn has a positive effect on productivity.
Production Monitor
Production managers can monitor the production output of the machinery at any time using the Production Monitor. Production benchmarks, such as operating and non-productive times, production quantities and downtimes, are displayed in real-time. The latest version also supports the global communication standard umati UA4MT (Universal Machine Technology Interface for Machine Tools).
UNITED GRINDING machines and machines from other manufacturers can be easily integrated into the Production Monitor—from anywhere and at any time—thanks to the Digital Solutions app. This overview makes it possible to discover optimization potential in the production and operation of the machines.
Growing Importance of Digitalization
UNITED GRINDING Digital Solutions products were presented at the MECSPE 2023 trade show in Bologna. As a result of the pandemic, the overall importance of digital assistance systems has gone up significantly. Remote solutions were the only way to stay in contact with customers and provide assistance during lockdown periods. During this phase, UNITED GRINDING had more than 2,500 remote deployments worldwide.
The trend towards flexible working models and working from home or on the road has also driven the demand for app-based solutions. Digital assistance systems are already an indispensable part of everyday life, and demand will continue to rise. The UNITED GRINDING Group is continuously expanding the functionalities of current products and constantly adding to the range of available digital solutions.
Related Glossary Terms
grinding


grinding

Machining operation in which material is removed from the workpiece by a powered abrasive wheel, stone, belt, paste, sheet, compound, slurry, etc. Takes various forms: surface grinding (creates flat and/or squared surfaces); cylindrical grinding (for external cylindrical and tapered shapes, fillets, undercuts, etc.); centerless grinding; chamfering; thread and form grinding; tool and cutter grinding; offhand grinding; lapping and polishing (grinding with extremely fine grits to create ultrasmooth surfaces); honing; and disc grinding.