July 18, 2022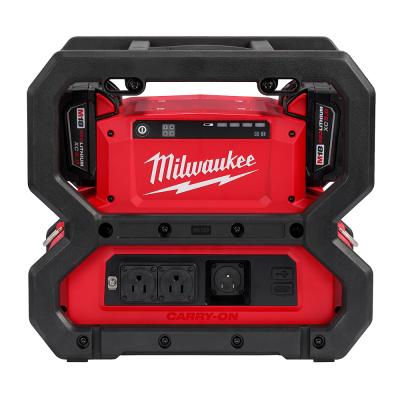 Milwaukee Tool expands their CARRY-ON™ Power Supply solutions to their M18™ System to bring on-demand portable power to any jobsite. The M18™ CARRY-ON™ 3600W/1800W Power Supply provides the most versatile 15A power, with less hassle.
The push button delivers an instantaneous start, reaching 3600 starting watts/1800 running watts of pure sine wave energy to power everything from high demanding 15A tools to sensitive electronics. The M18™ CARRY-ON™3600W/1800W Power Supply delivers longer sustained peak power through the most aggressive applications, such as table saws and pipe threading.
The M18™ CARRY-ON™ 3600W/1800W Power Supply leverages four M18™ batteries to deliver emissions-free power to the jobsite while eliminating the hassles associated with gas, such as headaches and routine maintenance. Quiet operation and a compact form allow users to carry the CARRY-ON™ Power Supply in confined spaces, scissor lifts, and utility carts.
Compatible with a shoulder strap (sold separately), the lightweight and compact design delivers maximum portability to allow users to bring power wherever it's needed on the jobsite. Users no longer have to rely on gas or temporary power sources. As an added benefit, the CARRY-ON™ Power Supply features USB-C PD and USB-A ports to charge sensitive electronic devices faster.
To meet performance expectations and deliver maximum power, the M18™ CARRY-ON™ 3600W/1800W Power Supply requires four M18™ REDLITHIUM™ batteries to operate. Users can charge M18™ Batteries simultaneously at a 3A standard rate when the product is not in discharge mode. The CARRY-ON™ Power Supply also features lockable battery bays where batteries can be secured with a padlock (not included) to prevent battery theft on the jobsite.
Milwaukee® is committed to improving productivity by providing performance-driven and trade-focused solutions so users can perform an entire day's work on one battery system. The new M18™ CARRY-ON™ 3600W/1800W Power Supply is fully compatible with the entire M18™ line, now offering more than 250 power tool solutions.
Specifications
M18™ CARRY-ON™ 3600W/1800W Power Supply (2845-20)
Power Source: Any (4) M18™ Batteries
Starting Watts: 3600W
Running Watts: 1800W
AC Output: (1) 120V 15A Duplex
DC Outputs: USB-A Port: 5V, 2.1A (10.5W)
USB-C PD Port: 5/9/12/15/20V, 3A (60W)
Noise Level: 66dB(a)
Pure Sine Wave: Yes
Weight (w/o batteries): 28 lbs
Related Glossary Terms
threading


threading

Process of both external (e.g., thread milling) and internal (e.g., tapping, thread milling) cutting, turning and rolling of threads into particular material. Standardized specifications are available to determine the desired results of the threading process. Numerous thread-series designations are written for specific applications. Threading often is performed on a lathe. Specifications such as thread height are critical in determining the strength of the threads. The material used is taken into consideration in determining the expected results of any particular application for that threaded piece. In external threading, a calculated depth is required as well as a particular angle to the cut. To perform internal threading, the exact diameter to bore the hole is critical before threading. The threads are distinguished from one another by the amount of tolerance and/or allowance that is specified. See turning.