September 22, 2022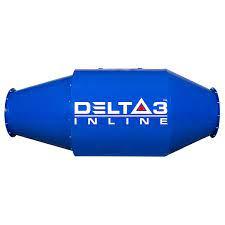 RoboVent, a leader in industrial dust collection and air filtration, has launched the new Delta3™ Inline Spark Arrestor. Built to last from heavy-gauge steel with all-welded construction, the Delta3 Inline Spark Arrestor from RoboVent offers unbeatable spark arrestance with exceptionally low pressure drop for energy savings.
In head-to-head testing against industry leaders, Delta3 Inline extinguished the competition with the best overall combination of spark control and efficiency. "The Delta3 Inline Spark Arrestor allowed zero sparks through ductwork at all tested airspeeds and tied for the lowest pressure drop among all tested technologies, which helps to reduce the energy required for operation and improves filter life," said Alysha Yinger, Director of Engineering, RoboVent. "It was designed for versatility, durability and performance."
Delta3 Inline can be used with a variety of dust collectors on the market, including RoboVent's new flagship dust collector, Senturion. It can be placed at the inlet of the dust collector (or other types of equipment) or inline with ductwork for the dust collection, ventilation or HVAC system.
Spark arrestors, such as Delta3 Inline Spark Arrestor, keep sparks out of the ductwork and/or dust collector filter chamber. These systems should be used whenever sparks are present near the inlet of the dust collection system. Spark-producing processes include, but are not limited to:
Welding
Cutting/Laser cutting
Grinding/Filing
Abrasive Blasting/Wheel Blasting
Shot Peening/Surface Texturing
Spark Machining/Electrical Discharge Machining (EDM)
"The Delta3 Inline Spark Arrestor is an evolution of our best-selling Delta3 centrifugal technology," said Rick Kreczmer, President, RoboVent. "Over two years of extensive testing and engineering, we have optimized the design to reduce pressure drop and save energy for our customers, while retaining and even improving the exceptional spark reduction of the original. Our goal was to create a product that would outperform our competition and provide facility managers with a true inline option for energy savings and ease of installation."
Centrifugal spark arrestors create an airflow pattern that drives sparks and embers against the outer walls, stripping the thermal envelope and extinguishing the spark. Delta3 Inline creates the centrifugal action without any airflow direction changes, which maintains better air speed and reduces the pressure drop common in spark arrestance technologies. High-air velocities are maintained on the surfaces inside the spark arrestor, minimizing particulate deposits so the unit is constantly cleaning itself. During design, RoboVent conducted hundreds of tests of competing centrifugal spark arrestors as well as simpler mesh screen spark traps to examine both spark arrestance capabilities and pressure drop. High pressure drop makes the dust collector work harder to maintain effective airflow, driving up energy costs.
"With any product development, we go straight to the source to learn about pain points, so we create solutions that deliver results," said Frank Cea, Director of Marketing and Development, RoboVent. "Customers who use the product will experience superior spark arrestance without sacrificing energy savings.Our customers want products that prevent fires and explosions, help keep their workers safe, while providing easy installation, maintenance and energy savings - these were all focal points for the new Delta3 design."
Related Glossary Terms
abrasive


abrasive

Substance used for grinding, honing, lapping, superfinishing and polishing. Examples include garnet, emery, corundum, silicon carbide, cubic boron nitride and diamond in various grit sizes.