March 31, 2022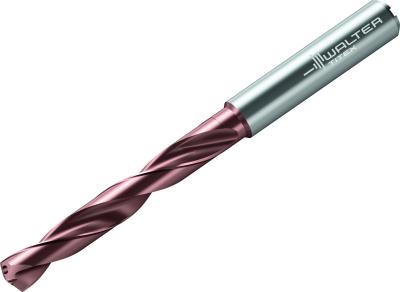 Walter has introduced the DC175 Supreme solid carbide drill with precision cooling, designed for machining ISO M (stainless steel) and S (super alloys) materials. This Walter drill uses a uniquely designed exit hole strategy to increased volume of coolant very close to the main cutting edge which can result in significantly improved tool life. The DC175 Supreme drills can be used with emulsion or oil as coolant. The new point geometry features a tough, straight main cutting edge, a large clearance in the center, and coolant channels positioned close to the cutting edge all features that are optimized for drilling of stainless steels or super alloy workpieces.
In addition to the cooling and geometry, Walter's new WJ30RZ and WJ30RY grades also boost performance because their highly wear-resistant TiAlSiN-based layer applied using HIPIMS coating technology takes the form of a complete coating for 3 and 5xDc (WJ30RZ grade) and a point coating for 8×Dc (WJ30RY grade). The 8×Dc version also features a polished flute for deep drilling. The result is a very smooth surface which ensures optimum chip evacuation and minimizes built-up edges. The ability to recondition the drills boosts the cost effectiveness three times, paired with its long tool life, also further boosts cost-effectiveness.
The drill is available in dia. 0.118-0.787 in. (3–20 mm) 3 × Dc in accordance with DIN 6537 short, 5 × Dc in accordance with DIN 6537 long,
8 × Dc in accordance with Walter standard L/D ratios. Prime areas of application for the new drill are general metalworking, automotive, aeronautical, and the food and medical industries.
There are three designations to Walter product technology—Perform, Advance and Supreme. The Perform tools provide an economical solution with focused importance on lower batch production and price. The Advance tools are efficiently balanced between price and performance. The Supreme designation indicates the highest level of technology and performance available for high productivity, high production volumes environment.