January 17, 2023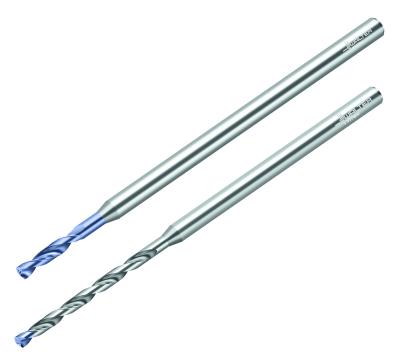 Walter has expanded its solid carbide micro drill line with the addition of the DB131 Supreme micro pilot drill sizes and extended the DB133 Supreme micro drill offering to deep drills up to 30 x Dc. These new drills are critical to achieving maximum process reliability combined with minimal dimensional variations and extended tool life in steel, cast iron, nonferrous, super alloys, hard materials and other materials (ISO P, K, N, S, H and O). Stainless steel (ISO M) is added to the list with internal coolant capability.
The use of Walter grades WJ30EL and WJ30ER ensures that the drills provide superior wear resistance. In addition, excellent surface finishes are due to the optimal cutting-edge preparation on the drill.
A new type of flute design reliably evacuates chips, even with the tinniest drills. This capability ensures that hole depths up to 30 × Dc can be easily achieved with the DB133 Supreme micro drill with its 140° point angle. The DB131 Supreme micro pilot drill features a 150° point angle. Emulsion, oil or minimum quantity lubrication (MQL) can all be used as a coolant with these drills.
The new DB133 drills without internal coolant are available in a diameter range from 0.020-0.116 in. (0.5-2.95 mm). The diameter range for the micro drills with internal coolant is 0.028-0.116 in. (0.7-2.95 mm). Length to diameter ratios (L/D) of 5, 8, 12, 16, 20, 25 and 30 × Dc are standard for micro drills with internal coolant and 5 and 8 × Dc without internal coolant. This new drill design is effective for applications in the medical, watchmaking, general mechanical engineering, mold and die making, energy and automotive industries.
The Walter lineup of products consists of three categories to tools. Supreme tools indicate the highest level of technology and performance available. Advance tools indicate product efficiently balanced between price and performance and Perform tools are products that provide an economical solution with focused importance on price ideal for small batch volume jobs.