March 17, 2019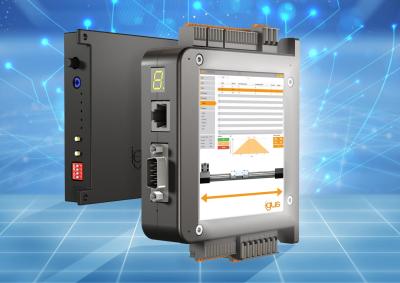 igus has developed a cost-effective and easy-to-use solution, the D3 dryve, for DC motor control that controls linear and rotary systems completely without software or a personal computer.
igus has also improved its D1 dryve control system for stepper, DC and EC/BLDC motors. The motor control system for more complex movements can be operated intuitively via a browser and modified live.
igus has been offering lubrication-free linear axes assembled with stepper and DC motors for several years within its line of drylin products. The motorized drylin E axes are ready-to-install in different sizes as a single axis or in a gantry structure, for example, with format and height adjustments or pick-and-place applications.
For easy control and operation of the axes, igus' D3 dryve now offers users a control system for simple movement. The D1 dryve is a control system for more complex tasks and allows a variety of tasks to be automated through an intuitive web-based interface.
The new D3 control system is suitable for all standard DC motors. It connects to a 24-volt power supply, and users then set parameters on operating mode, end position switch off, acceleration and the motor via the DiP switch.
The speed can be adjusted with a onboard potentiometer. The current limiting is done simply on the controller. After a few simple steps, the control system can be put into operation. A LED display indicates the current status of the control system to the user with several colors.
The D3 dryve is cost-effective, around $135, and allows even small and medium-sized businesses without programming skills the ability to use motorized axes.
The new D3 dryve control system can be used when you want to set up basic motion profile for height adjustments, sliding doors and many other positioning tasks.
For more complex tasks, such as controlling linear robots, users can rely on the intuitive D1 dryve control system for stepper motors, EC/BLDC and DC motors.
The D1 dryve control system includes a new intuitive interface. The user can operate the motor control system easily via a web browser on a fixed PC or even on a smart phone or tablet. A clear interface helps the customer set the correct parameters.
"The start-up of a motor-driven axis together with the new D1 dryve control system is possible in a few minutes," said Rene Erdmann, head of the drylin E drive technology division at igus. "Afterwards, the values can be changed, or intermediate steps can be added easily via the web browser."
Besides the fast commissioning and user-friendliness, the special advantage of the D1 dryve is the networking ability of the control system. It has been designed to save space and can easily be mounted in switch cabinets on a top-hat (DIN) rail. This can then be connected via a WLAN router, where the system can be controlled via a wireless device.
The integrated web server does not require any further software on the operating devices, nor does it need additional storage media. This means that users do not have to install or bear additional costs.
Related Glossary Terms
web


web

On a rotating tool, the portion of the tool body that joins the lands. Web is thicker at the shank end, relative to the point end, providing maximum torsional strength.