May 01, 2015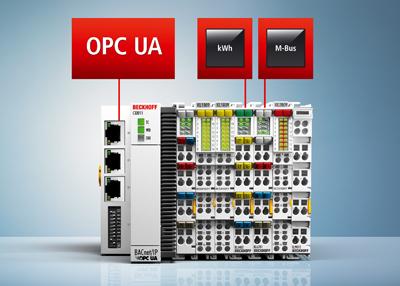 Beckhoff Automation has introduced the CX8091 as a new member of the CX8000 line, which currently includes the smallest Embedded PCs available from the company. With support of the OPC UA protocol, a 400 MHz ARM9 CPU and a range of connectable K-bus or E-bus I/O terminals, this Embedded PC represents a universal small controller for a wide range of applications. In addition, the CX8091 is fully interoperable with power measuring terminals from Beckhoff to serve as a compact data collector that supplies all information via OPC UA, enabling comprehensive energy management.
The CX8091 Embedded PC is a flexible and compact controller with a switched Ethernet port and supports OPC UA, the established protocol for vertical integration within modern plant environments. Bus Terminals (K-bus) and EtherCAT terminals (E-bus), as modular I/O systems, can be connected directly to, and automatically identified by the Embedded PC. In this way, a multitude of signals can be acquired locally, for example, via the numerous I/O terminals for energy data acquisition and many other types of measurement.
Electrical variables can be determined in a particularly convenient and system-integrated manner via the KL/EL3403 power measuring terminals from Beckhoff; while more in-depth analysis functions are offered by the EL3413 and EL3433 power measuring terminals, as well as the EL3773 mains monitoring terminal. In addition, compressed air supplies can be directly monitored, for example to detect energy-wasting leaks, using the KM37xx differential pressure measuring terminal and the machine-mountable EP3744 differential pressure measurement box with IP 67 protection.
The OPC UA (IEC 62541) communication standard is very well suited for linking communication within the production landscape up to the company management level and to energy management systems. As a globally recognized communication technology from the OPC Foundation, the protocol enables secure, reliable, and vendor-neutral transport of raw data and pre-processed information from the manufacturing level into production planning or ERP systems.
Beckhoff has successfully implemented this level of functionality with the TwinCAT OPC UA server certified by the OPC's European laboratory. It offers Data Access and Historical Access functions as well as PLC function blocks for diagnostics and restarting. Intermediate data storage in the server is also implemented, so that an interruption to communication does not lead to data losses. In addition, Beckhoff has integrated OPC Client functionality into the controller for the first time in the form of PLC function blocks for UA Data Access, the controller can push acquired energy data of its own accord into the IT world. Also included is a configurator for the setup of optional security functionality and a demo UA Client for diagnostic purposes.
The CX8091 Embedded PC can alternatively be used with the BACnet protocol (Building Automation Control Network). This Ethernet-based communication standard for building automation is particularly well-established in the management and control levels of buildings. Not restricted to a single controller type, the Beckhoff TwinCAT BACnet/IP solution is executable on every Beckhoff Industrial PC and Embedded PC.