December 22,2016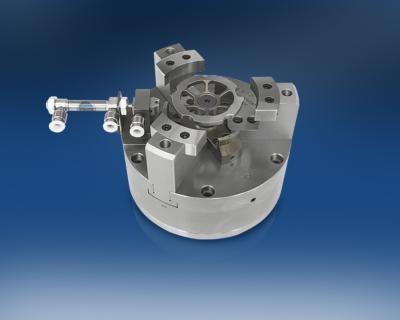 A customer came to Northfield Precision Instrument Corp. to design a chuck that would allow its precision sprocket to be positioned in the chuck only one way in order to assure a properly timed gear part. It would have to work with a range of gear diameters. Northfield's engineers customized the NF-650 air chuck with special tooling to meet these requirements.
These modifications consist of a locating ring to ensure one-way loading. A custom axial locator, with air detect seat sensor holes, guarantees positive part seating.
The custom top tooling also includes an adjustable air-actuated orientation key to time the work piece off of gear teeth. The orientation key supports air detection as well, to ensure part engagement.
Custom designed and dedicated subjaws are ground to accept changeable inserts for a range of gear diameters. Inserts can be easily changed out and still repeat to .0001''
TIR.
Related Glossary Terms
chuck


chuck

Workholding device that affixes to a mill, lathe or drill-press spindle. It holds a tool or workpiece by one end, allowing it to be rotated. May also be fitted to the machine table to hold a workpiece. Two or more adjustable jaws actually hold the tool or part. May be actuated manually, pneumatically, hydraulically or electrically. See collet.

total indicator runout ( TIR)


total indicator runout ( TIR)

Combined variations of all dimensions of a workpiece, measured with an indicator, determined by rotating the part 360°.