April 08, 2022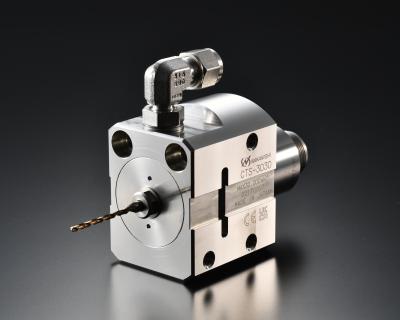 With over 90-years of manufacturing expertise, and 40 years in the Industrial Market, Nakanishi's the state-of-the-art manufacturer of industrial spindles, introduces the first high-speed, ultra-precision spindle that seamlessly transports coolant through the cutting tool, resulting in superior hole quality and increased productivity.
"We are excited to offer this first-to-market technology to our customers. This aligns with our core mission to create innovative machining technologies that create efficiencies and take small diameter deep hole drilling to the next level of precision", said Mike Shea, Product Sales Manager.
The High-Speed Spindle offers drilling depths of up to 20xD for shank sizes 3.0, 3.175 and 4.0mm, and offers a variable speed of up to 30,000 rpm. This allows for faster cycle times and longer tool life.
The CTS-3030 Spindle allows for smaller, more manageable chips for better chip flow, spindle accuracy within 1 Micron and eliminates the need for secondary drilling operations.
Related Glossary Terms
coolant


coolant

Fluid that reduces temperature buildup at the tool/workpiece interface during machining. Normally takes the form of a liquid such as soluble or chemical mixtures (semisynthetic, synthetic) but can be pressurized air or other gas. Because of water's ability to absorb great quantities of heat, it is widely used as a coolant and vehicle for various cutting compounds, with the water-to-compound ratio varying with the machining task. See cutting fluid; semisynthetic cutting fluid; soluble-oil cutting fluid; synthetic cutting fluid.

micron


micron

Measure of length that is equal to one-millionth of a meter.

shank


shank

Main body of a tool; the portion of a drill or similar end-held tool that fits into a collet, chuck or similar mounting device.
Additional Products from NSK America Corp.