December 15,2021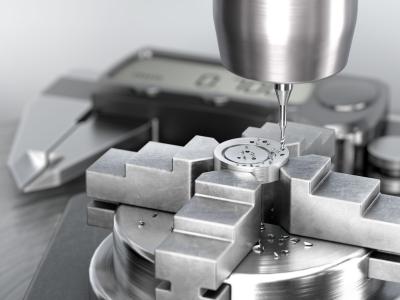 Sandvik Coromant, a global leader in machining solutions, has launched two new microdrill families specifically designed for precision machining. The CoroDrill® 462 with -XM geometry and the CoroDrill® 862 with -GM geometry support industries with high demand for small part manufacturing, including medical, automotive, electronics and aerospace. Designed to cover a variety of workpiece materials, the new drills offer precise performance where accuracy is key.
Devices across several industries are shrinking in size. This can be seen most clearly in electronics, with modern devices offering ever greater capability in smaller packages. Elsewhere, in medical device manufacturing, the rising trend of minimally invasive surgery — using techniques that minimize the size of the incisions a surgeon makes — requires increasingly intricate tools. As the size of technology scales down and its level of sophistication scales up, manufacturers demand tools that can produce smaller, more complicated parts.
Drilling specialists generally use the term micro drilling when describing holes smaller than three millimeters (mm) in diameter. This can refer to holes often encountered in the electronics industry, where workpieces are just a few hundredths of a millimeter thick, but more common applications include the aerospace industry, mold and die making and medical equipment manufacturing.
The CoroDrill® 462 and 862 are the next generation of micro drills from Sandvik Coromant. Available in new geometries to offer a wide variety of cutting diameters and lengths, the drills boast an increased product range compared to previous assortments.
The drills have been specially adapted to overcome the challenges of micro drilling. For instance, much like macroscale applications, it's critical to have quality coolant to effectively evacuate chips when performing deep-hole drilling with micro tools. Both the CoroDrill® 462 and 862 can easily drill hole depths of up to nine times diameter (xD) when using external coolant, and a through-coolant option is also available for drilling diameters of 1.00 mm and above, and hole depths of up to 16xD. Not only does the effective use of coolant help the tools to drill deeper holes; it also extends the tool life and reduces the risk of chip jamming.
Individually, the CoroDrill® 462 offers high performance hole making up to 3.00 mm. Ideal for drilling both blind and through holes, the drill is capable of machining a variety of ISO materials, including ISO P, M, K, N, S, O and H. With a drill depth of 6xD, the CoroDrill® 462 offers manufacturers a versatile drilling solution.
The CoroDrill® 862 is ideal for making holes from 1.00 mm to 3.00 mm in diameter in all materials, when used with internal coolant. In addition to conventional drilling, the CoroDrill® 862 supports a variety of other drilling activities, including cross holes, stack drilling and drilling of convex and concave surfaces.
The CoroDrill® 462 and 862 are available as both off-the-shelf and customizable solid carbide tools. As part of the range, Sandvik Coromant has made it possible to configure the tools based on diameters, usable length, step-diameter length and shank diameter, for manufacturers who require a bespoke approach to micro drilling.
Customers also have the option of purchasing the CoroDrill® 862 with a polycrystalline diamond (PCD) vein cutting edge. PCD is up to 100 times more wear-resistant than solid carbide. In addition, PCD tooling is more accurate and can produce tighter tolerances than solid carbide tools. Therefore, customers seeking to drill micro-sized holes in notoriously difficult-to-machine materials, such as titanium, aluminum, glass and ceramics, should consider PCD.
"The CoroDrill® 462 and 862 mark a new era for micro drilling," said James Thorpe, Global Product Manager at Sandvik Coromant. "We've made significant upgrades since the launch of our last micro drills, with the aim of delivering more options to our customers.
"In today's manufacturing landscape, whether you're producing luxury watches or aerospace parts, the demand for intricacy is greater than ever. As products get smaller and with more complex components, we recognize that we too need to adapt and make our drills capable of machining smaller holes. The applications that demand micro drilling are extremely varied, which is why we're offering more customizable options in addition to a wider variety of standard tools."
The CoroDrill® 462 and CoroDrill® 862 will replace Sandvik Coromant's existing R840 and current 862 micro drill assortments.