January 17, 2023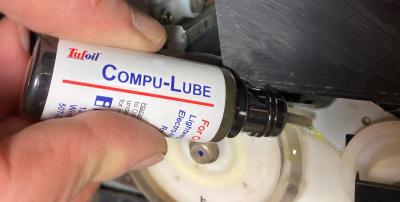 Compu-Lube is a lightweight synthetic oil engineered by Fluoramics to safely lubricate electronics, computers, and high-speed mechanisms such as 3D printers, computer printers, keyboard switches, stabilizers, computer fans, robotics, and fine bearings. It may also be used on laptop hinges, game controllers, power tools, automotive electronics, turntables, steppers, X-Y Recorders, electronic contacts, metal or plastic gears, strike solenoids, and servo bearings. Not only does Compu-Lube lubricate, but it acts as a cleaning agent and helps prevent rust. It has a high dielectric constant and is safe with electronics and electromechanical devices.
Compu-Lube is engineered using Tufoil® Technology. Solvent-free, Compu-Lube is a super low friction, low wear, low viscosity lubricant that uses very small PTFE particles to get between the finest working surfaces. It is suitable for plastic-on-plastic and plastic-on-metal as well as metal-on-metal contacts.
"Scanning electron microscope studies show the PTFE particles are attracted to metal surface and are difficult to remove. That means Compu-Lube easily gets between the smallest working surfaces," says Gregg Reick, Fluoramics' President and Chief Chemical Engineer.
The 16.5 mL (.557 fl oz) dropper tip bottle provides easy application to small areas. To use, place a small drop on areas like bearings, guides, and control cables. For high-speed mechanisms like strike hammers, use a tiny trace on moving parts to start. Sparingly add more until the machine works smoothly and wipe off excess. Apply a drop to squeaky or noisy gears, wheels, laptop hinges, or computer fans, then move back and forth to spread it and help parts move quieter and easier and with less resistance.
Related Glossary Terms
robotics


robotics

Discipline involving self-actuating and self-operating devices. Robots frequently imitate human capabilities, including the ability to manipulate physical objects while evaluating and reacting appropriately to various stimuli. See industrial robot; robot.