July 29, 2019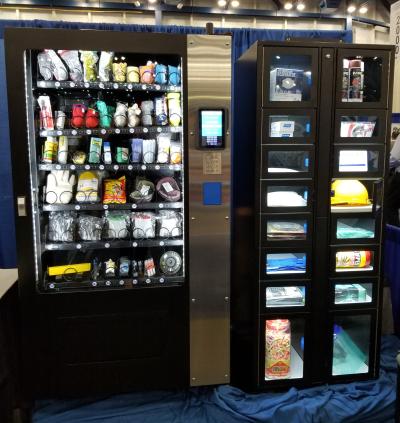 1sourcevend is introducing its new combo machines. The machines give customers the option to now daisy chain coil/lockers together to vend many more items from the same touchscreen interface. The combo machines will allow customers to vend high-turn, disposable items like gloves and cutting tools while also vending returnable, high-value items like power tools and gauges all from the same unit.
"We knew that flexible configuration is an important feature in our customers' vending machines, so we created a better way for them to vend multiple SKUs of various sizes from the same machine," says Mark Hill, president of 1sourcevend. "We call them combo units because the customer has full control of combining the units to suit their individual needs. Up to 4 coil or lockers and can be combined to create their own master combo unit."
1sourcevend's user-friendly software solution can profitably provide inventory control for low- and high-cost disposable and reusable items. The combo units help customers save money by allowing multiple auxiliary units to be controlled by one master unit providing increased capacity to capture more business without significantly increasing overhead costs. The combo units are flexible enough to be placed anywhere and the easy-to-use touchpad offers a mirror image map of which items are available for vending.
Key benefits of 1sourcevend's inventory control software include:
Reduced carrying costs and consumption
Automated and increased inventory control
Improved regulatory compliance
Reduced tax liability
Operates just about anywhere