October 28, 2016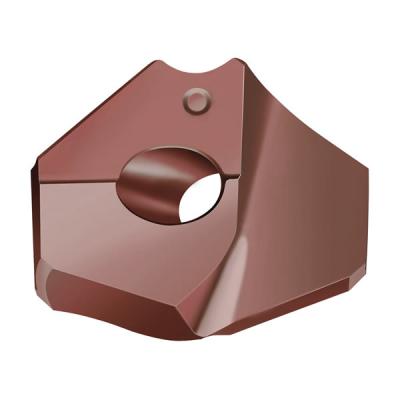 Cast iron drilling has taken a significant step forward with an expanded insert range for new diameters in the high-speed Color Select P6005-WKK45C grade for Xtra·tec B401x point drills. These new inserts are available in diameters up to 1.50 in. (37.99 mm). With this expansion, the grade specially developed by Walter for machining cast iron can now be used to drill all holes from 0.47 to 1.50 in. (12 to 37.99 mm) in diameter at depths up to 7×Dc and holes from 0.71 to 1.02 in. (18 to 25.80 mm) in diameter at hole depths up to 10×Dc.
The typical cast iron properties such as brittleness as well as irregular structures and surfaces exert a great deal of stress on cutting edges, which can result in high operating temperatures. The substrate, coating and geometry of the P6005-WKK45C insert work to counteract these conditions. Its multilayer PVD coating combines wear-resistant and tough layers to ensure optimized hardness and toughness.
These characteristics give the new inserts up to 100 percent more strength on the cutting edge and outstanding resistance to wear and high temperatures. They also provide great process reliability when drilling and withdrawing from deep holes, even at very large diameters. In addition, the red ISO K coating used on the Color Select WKK45C range allows users to easily gauge the amount of wear on the insert.
Related Glossary Terms
hardness


hardness

Hardness is a measure of the resistance of a material to surface indentation or abrasion. There is no absolute scale for hardness. In order to express hardness quantitatively, each type of test has its own scale, which defines hardness. Indentation hardness obtained through static methods is measured by Brinell, Rockwell, Vickers and Knoop tests. Hardness without indentation is measured by a dynamic method, known as the Scleroscope test.

physical vapor deposition ( PVD)


physical vapor deposition ( PVD)

Tool-coating process performed at low temperature (500° C), compared to chemical vapor deposition (1,000° C). Employs electric field to generate necessary heat for depositing coating on a tool's surface. See CVD, chemical vapor deposition.