April 10, 2019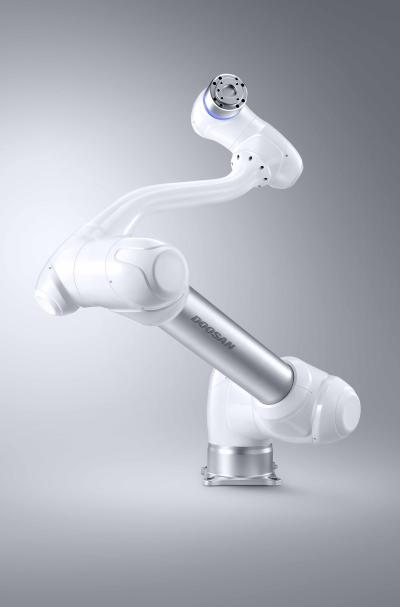 Doosan Robotics (Doosan) offers a versatile lineup of collaborative robots (cobots) that are engineered to meet the needs of today's automation market. Doosan cobots have been particularly popular in France and Italy due to their strong capabilities and intuitive and easy application.
With its parent company Doosan Group's heritage of engineering excellence in Korea, Doosan Robotics has created the next generation of cobots and is now rolling out its flagship lineup in the North American market. These four cobot models enable customers to experience first-hand safe, versatile and easy-to-use automation. Doosan's ergonomically designed cobots can serve a wide variety of customer needs, offering a broad range of capabilities – a working radius of 35.4 to 66.9 inches (900 to 1,700 mm) and a load capacity of 13.2 to 33.1 lbs. (6 to 15 kg).
Doosan cobots are equipped with their own proprietary torque sensors on all six joints, providing enhanced collision sensitivity. The sophisticated technology of the torque sensors also enables these robots to be used in diverse applications that utilize advanced force and compliance control algorithms.
Powered by a teach pendant, which is a human-centered touchscreen control embedded with Doosan's award-winning software, Doosan cobots are extremely intuitive to teach and easy to operate, enabling customers to take full control without having to write complicated programming scripts.
User-friendly Experience (Easy-to-Use): Another key feature of Doosan cobots is their ultra-intuitive user experience, led by their award-winning software that allows users easy operation of all features. Equipped with this easy-to-use interface, end users can control cobots and provide direction through an effortless teaching process.
Accessories: There are a wide range of accessories that empower the Doosan cobot experience, maximizing performance and production efficiency. These accessories include Mobile Base, a solution enabling flexible relocation and movement equipped with a direct teaching unit and Smart Vision Module System. The Smart Vision Module System allows cobots to inspect the surrounding area using mounted cameras.
"We are in the middle of the Fourth Industrial Revolution, where collaborative robots play a key role. Humans will be increasingly empowered to achieve higher levels of efficiency and immediate productivity gains through harnessing technology," said Byungseo Lee, CEO of Doosan Robotics. "Doosan is leading this transformation with the creation of our innovative cobots, which will help unlock productivity for our customers in North America."
Related Glossary Terms
robotics


robotics

Discipline involving self-actuating and self-operating devices. Robots frequently imitate human capabilities, including the ability to manipulate physical objects while evaluating and reacting appropriately to various stimuli. See industrial robot; robot.