November 01, 2018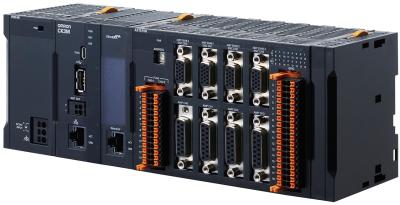 Motion controller output speeds are reaching an industry-leading 50 µs/5 axes with the introduction of the new CK3M programmable multiple-axis controller from Omron. The company combined enhanced motion control capability originally developed by Delta Tau Systems (now part of Omron) with its own advanced design technologies inside a compact and streamlined housing.
Built with the needs of automotive and semiconductor manufacturing in mind, the CK3M controller achieves nanoscale motion control to keep production lines flexible enough to accommodate the needs of the future. Both of these industries are facing more complex manufacturing requirements, such as increasingly miniaturized, 3D-structured semiconductor devices and more complex automotive components (both internal and external) that incorporate more diverse materials than ever before. Conventional motion controllers cannot easily handle these needs.
Today's manufacturing machines – as well as those of the future – require increasingly precise positioning and path control that can be most effectively achieved through the synchronized control of high-resolution encoders, motors and other devices. Whereas conventional controllers can only connect with specified devices, the new CK3M facilitates fully synchronized motion control by providing connectivity to virtually any motor or encoder using EtherCAT and encoder communication protocols.
Machine builders can avoid developing their own controller boards, as well as specialized control algorithms, to integrate a separate controller for each device when just a single controller is needed for high-speed synchronized control. As an all-in-one control solution, the CK3M significantly lowers the cost of design changes due to the discontinuation of used parts. In addition to the benefits of fully synchronized motion control, the CK3M makes it possible to use ANSI C or an original programming language so that machine builders can create their own control algorithms.
In summary, the new CK3M programmable multiple-axis controller helps optimize system configuration with its ability to interface with various encoders and motors, providing high-precision synchronous control and increasing machine performance. With output speeds of 50 µs/5 axes, the controller's high-speed feedback control enables precise path control in precision machining. Machine builders can incorporate their own advanced control with its support for ANSI C or an original programming language.
Related Glossary Terms
precision machining ( precision measurement)


precision machining ( precision measurement)

Machining and measuring to exacting standards. Four basic considerations are: dimensions, or geometrical characteristics such as lengths, angles and diameters of which the sizes are numerically specified; limits, or the maximum and minimum sizes permissible for a specified dimension; tolerances, or the total permissible variations in size; and allowances, or the prescribed differences in dimensions between mating parts.