August 08,2018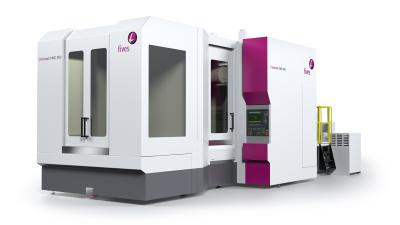 The new Cincinnati HMC 800 is a high-performance HMC solution for demanding aerospace, oil and gas, and other industrial hard metal manufacturing applications that require precision machining. The Cincinnati HMC 800 combines high spindle torque and power with superior dynamic machine stiffness, plus, the dual ball screws provide exceptional feed rates: 45m/min, and acc/dec rates of 0.5G.
The bridge and saddle, designed with enhanced dynamic stiffness, provide optimum finish and tool life in hard metal applications. "The Cincinnati HMC 800 is the perfect solution for the aero or industrial customer who machines hard metal applications, from steel to titanium. The unified structural design allows for fast installation on existing shop foundations," said Brent Keller, engineering director at Fives Cincinnati. "With the Cincinnati HMC 800, we are targeting those applications where accuracy, rigidity and reliability are priorities."
The Cincinnati HMC 800 is capable of 5-axis five-sided complex part manufacturing. The 5-axis combines twin ball screw driven axes in XYZ, an infinite contouring B-axis table, and compact u-frame A-axis tilt spindle for full 5-axis contour machining of complex part geometries. All combined, the HMC 800 delivers five-sided machining capability with balanced speed, accuracy and range for complex part manufacturing, with reduced part setups for better quality and lowest cost-per-part.
Keller added, "We designed the Cincinnati HMC 800 with the customer in mind – reliable, hard metal machining, low parasitic time, all at an affordable price."
Additionally, it is equipped with high-torque spindle options for hard metal processing, 2 speed - 6,000 rpm, and all spindles have external flood up to 250 psi and internal through-spindle coolant up to 1,500 psi (HSK100A/KM4X). Tooling options include: HSK-100A, KM4X100 and Big Plus 50.