October 18, 2019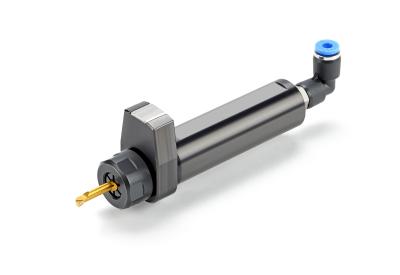 Carmex Precision Tools' CIM system provides high precision, accuracy, and repeatability through an internal tool indexing mechanism that locates the tool in the correct orientation. The collet holds the tool securely for high stability, and tool change does not require removal of the holder.
Designed to fit standard and special Carmex Tiny Tools, the CIM system eliminates retaining screws and features three clamping flats on the shank for maximum flexibility. Initial tool setup is easily accomplished by setting the rear
stopper screw once the tool has been inserted in the collet. When the holder has been inserted into the machine, the tool can be placed in the collet and secured by the clamping nut. Once this is done, tooling can be easily replaced
by loosening the clamping nut with the wrench provided, removing the old tool and inserting the new one.
Orientation and accuracy is assured and the procedure is quick and easy. The internal coolant feature allows for flow through the CIM holder and the Tiny Tool for delivery to the cutting edge.
Jim White, national sales manager for Carmex USA, comments, "Multi-axis capabilities of today's Swiss-style machines require a faster and easier method of changing tools during production runs. The unique, patent-pending, design of
Carmex's new CIM toolholder offers customers the ability to change tools without the cumbersome extraction process required by conventional toolholders. The CIM system is emblematic of Carmex's continuing commitment to
innovation and process improvement for our customers."