September 01,2011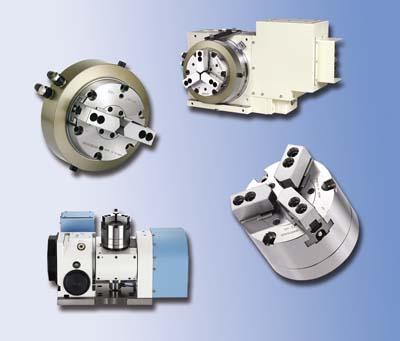 LMC Workholding offers Chandox brand rotary table air chucks for dividing or cutting work pieces. The chuck is mounted to an indexing or rotary table and rotates with the spindle. The 3-jaw air chucks with two built-in cylinders are available with a gripping force up to 21.6 kn or 4855 lb-f of grip, and a jaw stroke diameter of 3.8mm.
Rotary air chuck fixtures with built in cylinders are also available. Other features include a rustproof treated cylinder, dust and water proof cover and an integral pneumatic cylinder which connects the chuck and built-in cylinder to each other directly for operation stability.
Related Glossary Terms
chuck


chuck

Workholding device that affixes to a mill, lathe or drill-press spindle. It holds a tool or workpiece by one end, allowing it to be rotated. May also be fitted to the machine table to hold a workpiece. Two or more adjustable jaws actually hold the tool or part. May be actuated manually, pneumatically, hydraulically or electrically. See collet.