March 01, 2014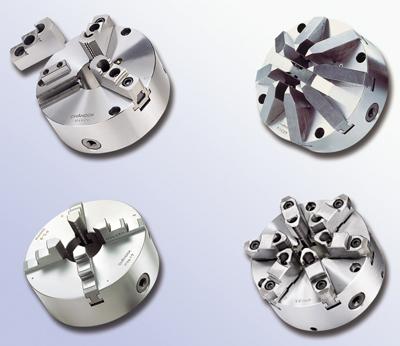 LMC Workholding offers Chandox brand steel body and cast iron manual chucks for various applications. Also unique to LMC is the NT and TNT series, these manual chucks feature hard jaws and soft jaws which are interchangeable with those of power chucks and can be adjusted to increase the gripping range.
Chandox steel body chucks enhance safety for high-speed machining and long life, according to the company. The NT and TNT versions can be used as a "forming plate" for machining soft jaws of power chucks also. Other features include a chuck handle which operates smoothly and easily and an optional mounting plate designed for your specific machine. The steel body chucks are available in 2-, 3-, 4- and 6-jaw configurations with or without adjusting feature in chucks body and in 1- or 2-piece jaws, with sizes up to 15 inch in diameter.
Cast iron Chandox manual chucks are also available for lower speed application and more economical pricing, but with the same manufacturing quality. Cast Iron chucks are also offered in 3-, 4-, 6- and 8-jaw designs with 1- and 2-piece master jaw configuration and sizes up to 16 inch in diameter.
Related Glossary Terms
chuck


chuck

Workholding device that affixes to a mill, lathe or drill-press spindle. It holds a tool or workpiece by one end, allowing it to be rotated. May also be fitted to the machine table to hold a workpiece. Two or more adjustable jaws actually hold the tool or part. May be actuated manually, pneumatically, hydraulically or electrically. See collet.