June 01, 2015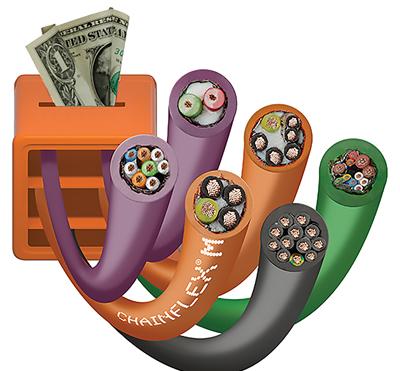 Tested, safe, yet low in price – this is the promise from igus with their newest line of Chainflex cables. From control, servo motor, and measuring system cables, to data, power, and bus cables, Chainflex M offers a full cable range, all designed specifically for continuous-flexing applications; at about 40 percent lower cost than traditional Chainflex cables.
The standard line of Chainflex cables is tested and guaranteed for high speeds, high cycles, and demanding environments, yet many applications do not require such high standards of their cables. Now, with Chainflex M, manufacturers have the option of having the flexible reliability of Chainflex, but with a lower cost. Guaranteed for up to 5 million cycles, Chainflex M cables are in the same price range as cables for non-flexing applications.
All Chainflex cables are tested in igus' in-house laboratory in Cologne, Germany, where 2 billion test cycles are carried out each year, including in true-to-life application settings. There are three main advantages for Chainflex M users: tested reliability, including a guarantee commitment, a competitive price, and the flexibility to fit perfectly into Energy Chain cable carrier systems.