June 13,2013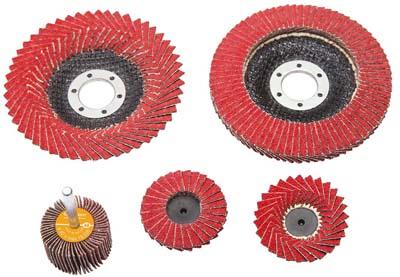 ATI Stellram based at Ibstock U.K. have introduced a multi-purpose range of ceramic abrasives. Completely UK designed and manufactured the range of CERAMIQ abrasives has been engineered for aggressive metal removal and finishing for applications across the manufacturing sector. In particular, removing weld spatter and cleaning joints, grinding profiles and finishing contoured surfaces on high performance materials such as high nickel alloys, steels, stainless steel and titanium. Being suited to both heavy grinding and finishing operations, CERAMIQ products offer optimal surface finish by avoiding scoring, marking and "blueing" of the workpiece.
At the core of the range is the proven CERAMIQ Flap Disc, designed for efficient grinding and finishing in one operation, a new Quick Change CERAMIQ Minidisc for material removal and blending where accessibility is a problem, CERAMIQ Flexidisc and Mini-Flexidisc; that bring high performance to blending and finishing on concave and convex surfaces and the new CERAMIQ Flap Wheel for efficient stock removal and finishing.
When using better performing products such as CERAMIQ, which are able to remove material quickly, helps to reduce operator fatigue because less time is spent working on components, therefore helping to reduce operator exposure time to harmful vibration. Carpal tunnel syndrome (or white finger) is a health and safety risk for operators of hand held grinding equipment and U.K. legislation is stringent to minimise risks to the operators.
Garryson CERAMIQ are all available in various grits and sizes.
Flap disc 4", 4-½", 5" and 7"
Flap Wheels 1", 2" and 3"
Minidisc 2" and 3"
Large Flexidiscs 4-½" and 5"
Mini flexidiscs 2" and 3"
Related Glossary Terms
alloys


alloys

Substances having metallic properties and being composed of two or more chemical elements of which at least one is a metal.

fatigue


fatigue

Phenomenon leading to fracture under repeated or fluctuating stresses having a maximum value less than the tensile strength of the material. Fatigue fractures are progressive, beginning as minute cracks that grow under the action of the fluctuating stress.

grinding


grinding

Machining operation in which material is removed from the workpiece by a powered abrasive wheel, stone, belt, paste, sheet, compound, slurry, etc. Takes various forms: surface grinding (creates flat and/or squared surfaces); cylindrical grinding (for external cylindrical and tapered shapes, fillets, undercuts, etc.); centerless grinding; chamfering; thread and form grinding; tool and cutter grinding; offhand grinding; lapping and polishing (grinding with extremely fine grits to create ultrasmooth surfaces); honing; and disc grinding.