February 03, 2021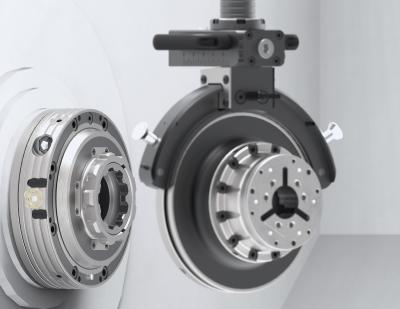 Hainbuch introduces the new centroteX S clamping device change-over system. The mini version has all the proven centroteX technology, however with an additional advantage: Actuation takes place with just one screw; thus, you save even more set-up time, and this system was designed to enable a robot to quickly change the clamping device. With lesser tightening torque than is required with the large variant, the centroteX M, the centroteX S can be assembled more quickly and this is executed with the highest repeatability and at the same time it also offers more ergonomic operation. With its diameter of just 52 mm, and the small outer diameter of 224 mm, centroteX S is the ideal quick change-over system for machines with a small workspace.
Set-up has never been so simple
The machine adapter is mounted on the spindle, subsequently the adapter and the adapter counterpart that is equipped with the clamping device can be exchanged within the shortest time possible. The result: shorter set-up times, fast ROI and increased cutting times. The centroteX systems can be utilized with either a Hainbuch supplied chuck or the customer's existing chuck.
Related Glossary Terms
chuck


chuck

Workholding device that affixes to a mill, lathe or drill-press spindle. It holds a tool or workpiece by one end, allowing it to be rotated. May also be fitted to the machine table to hold a workpiece. Two or more adjustable jaws actually hold the tool or part. May be actuated manually, pneumatically, hydraulically or electrically. See collet.

outer diameter ( OD)


outer diameter ( OD)

Dimension that defines the exterior diameter of a cylindrical or round part. See ID, inner diameter.