January 01, 2014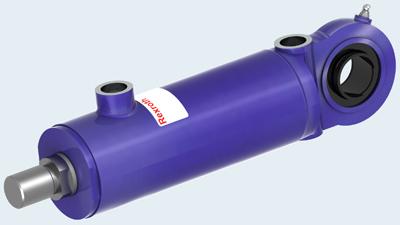 Machine manufacturers are increasingly demanding cost-optimized hydraulic cylinders with a high degree of reliability. Bosch Rexroth meets these demands with the new CDL2 mill type cylinder for both pressure ranges of 160 and 250 bars. They are designed for two million load cycles. Design engineers can thus accurately calculate the cylinder's lifecycle for each application and determine the price/performance ratio with transparency.
Reliable components for main and auxiliary functions determine machine dependability and availability. Until now, design engineers had to choose hydraulic cylinders based on the required pressure range without any accurate lifecycle data. Bosch Rexroth now gives design engineers a secure database: the CDL2 cylinder has been reliably designed and tested for 2 million load cycles.
It features four different mounting types and stroke lengths up to 3,000mm. It can be used across a broad spectrum of applications, including wood and paper production, general machinery construction, recycling and material handling. Bosch Rexroth has also simplified the entire engineering and ordering process. Design engineers can select all versions online using Rexroth's interactive catalog system. It contains 2D/3D CAD data, order codes and installation drawings for the selected cylinder, and all accessories. All options are configurable by default and enable short delivery times. The new CDL2 mill type cylinder supplements the broad Rexroth portfolio of hydraulic components and complete hydraulic systems used around the world.
Related Glossary Terms
computer-aided design ( CAD)


computer-aided design ( CAD)

Product-design functions performed with the help of computers and special software.

milling machine ( mill)


milling machine ( mill)

Runs endmills and arbor-mounted milling cutters. Features include a head with a spindle that drives the cutters; a column, knee and table that provide motion in the three Cartesian axes; and a base that supports the components and houses the cutting-fluid pump and reservoir. The work is mounted on the table and fed into the rotating cutter or endmill to accomplish the milling steps; vertical milling machines also feed endmills into the work by means of a spindle-mounted quill. Models range from small manual machines to big bed-type and duplex mills. All take one of three basic forms: vertical, horizontal or convertible horizontal/vertical. Vertical machines may be knee-type (the table is mounted on a knee that can be elevated) or bed-type (the table is securely supported and only moves horizontally). In general, horizontal machines are bigger and more powerful, while vertical machines are lighter but more versatile and easier to set up and operate.