June 18, 2022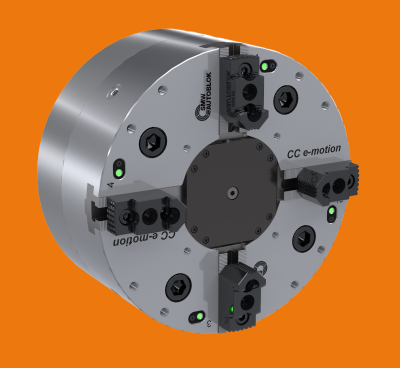 SMW Autoblok sets a new standard for power chucks with the introduction of the CC e-motion electric 4-jaw chuck featuring wireless power and signal transmission (up to a 20 mm distance) utilizing an F180 Ethernet base inductive coupler system and high repeatability of < 5 µm.
Ideal for everyday use, the CC e-motion offers unbeatable accuracy and flexibility for high or low volume turning, inspection and finishing operations while providing fast, seamless machine integration. Optimum for either heavy duty or precision machining of any workpiece geometry, the chuck allows users to not only program the cutting cycle, but the jaw movement and gripping cycle as well.
Whether the application requires highest accuracy or high-low chucking, the individual
electro-mechanical single jaw drive of the CC e-motion allows grip force setting to any value as well as automatic radial fine adjustment of the workpiece. There is no other fully integratable chucking system available on the market making this programmable power chuck completely revolutionary to the industry. Plus, the ability to handle any workpiece shape and configuration of parts means fewer changeovers and vastly reduced downtime with dramatically improved part quality.
Designed to meet the demands of manufacturing automation and Industry 4.0, CC e-motion includes redundant safety monitoring that displays the status of the chuck while in operation, letting the user know if the chuck is open, closed, improperly clamped or has insufficient clamping force—all at-a-glance—a definite game changer!
Each jaw of the CC e-motion is independently controlled and monitored by a single mechatronic drive providing automatic correction function and the ability to change the grip force in process without removing the part. The chuck body and internal parts are case hardened for increased chuck life and highest rigidity, precision, and durability, and accept standard inch serrated top jaws.
The plug and play CC e-motion uses the innovative F180 Ethernet base coupler system that transmits up to 400 W of energy and data contact-free through an air gap of up to 20 mm between rotating and stationary components. The IP67 rated coupler is wear and maintenance-free and is ideal for use as slip rings or connector replacements as well as other applications.
Every component of this chuck package is developed and manufactured by SMW Autoblok who offers worldwide sales and service support in over seventy countries across all continents.
Related Glossary Terms
chuck


chuck

Workholding device that affixes to a mill, lathe or drill-press spindle. It holds a tool or workpiece by one end, allowing it to be rotated. May also be fitted to the machine table to hold a workpiece. Two or more adjustable jaws actually hold the tool or part. May be actuated manually, pneumatically, hydraulically or electrically. See collet.

precision machining ( precision measurement)


precision machining ( precision measurement)

Machining and measuring to exacting standards. Four basic considerations are: dimensions, or geometrical characteristics such as lengths, angles and diameters of which the sizes are numerically specified; limits, or the maximum and minimum sizes permissible for a specified dimension; tolerances, or the total permissible variations in size; and allowances, or the prescribed differences in dimensions between mating parts.

turning


turning

Workpiece is held in a chuck, mounted on a face plate or secured between centers and rotated while a cutting tool, normally a single-point tool, is fed into it along its periphery or across its end or face. Takes the form of straight turning (cutting along the periphery of the workpiece); taper turning (creating a taper); step turning (turning different-size diameters on the same work); chamfering (beveling an edge or shoulder); facing (cutting on an end); turning threads (usually external but can be internal); roughing (high-volume metal removal); and finishing (final light cuts). Performed on lathes, turning centers, chucking machines, automatic screw machines and similar machines.