November 03, 2022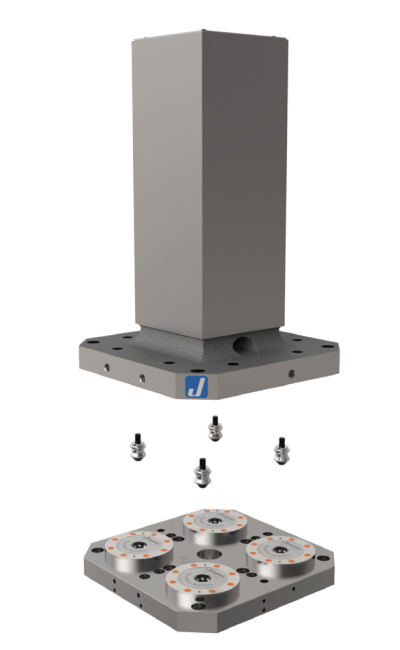 Jergens introduces its newest cast iron tooling columns that offer maximum rigidity. The key to this performance is single piece cast iron construction. These columns are made in the U.S.A., increase horizontal machining potential, and provide a solid basis for custom workholding to suit specific customer needs.
Several mounting options are possible including direct, with center pin locating or edge locating, and also quick-change applications via ZPS with K20 pull studs and 4 module subplate. New column styles include square, cross, and rectangular. The square and cross styles are well suited for high density multi-part fixtures or incorporating multiple operations into a single column. The cross style allows the added benefit of increased spindle access near the column, eliminating the need for extra-long tools. The larger upright faces of the rectangular columns are ideal for applications involving larger workpieces.
Column construction uses stress relieved, class 40 cast iron, with the base and sides milled flat, perpendicular, and parallel within .001"/ft. providing an accurate foundation on which to setup workholding devices or quick-change systems. What does this spec translate to for customer use? Other features include a center locating bore, inch, and metric hole patterns, M12 lifting holes for secure hoist ring attachment.
With technical staff support, Jergens tooling columns are customizable as well as easily integrated into full custom design and build projects. Popular patterns and methods include tapped grid, bushed, and tapped grid for modular fixturing applications, or for quick-change, add either Ball Lock® receiver bushings or ZPS modules.
Related Glossary Terms
flat ( screw flat)


flat ( screw flat)

Flat surface machined into the shank of a cutting tool for enhanced holding of the tool.

modular fixturing


modular fixturing

System in which fixtures are constructed from standardized, reusable components. Fixtures are assembled and disassembled quickly. Basic styles are subplate, dowel-pin and T-slot. See fixture; modular tooling.

parallel


parallel

Strip or block of precision-ground stock used to elevate a workpiece, while keeping it parallel to the worktable, to prevent cutter/table contact.