January 20, 2022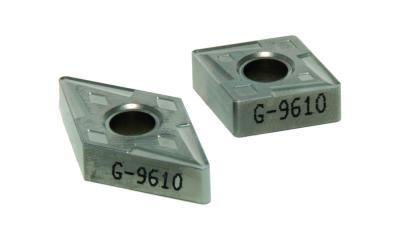 Greenleaf Corporation recently introduced carbide insert grade G-9610. This grade delivers a 25% increase in material removal rate and up to 100% increase in tool life versus the competition when machining titanium. G-9610 is a great addition to the Greenleaf portfolio.
Utilizing an innovative PVD coating combined with a proprietary sub-micron substrate, G-9610 provides added productivity for turning titanium-based alloys. The smooth and lubricious coating is wear-resistant and chemically-stable, which helps to protect the heat-resistant substrate and allows for higher speeds and extended tool life in continuous cuts. Other key attributes of G-9610 include:
High resistance to built-up edge (BUE), chemical wear, abrasive wear, and loss of hardness at high temperatures

Best applied at higher speeds and moderate feed rates

Retains a sharp edge longer, relieving cutting forces and excessive heat
"This is a breakthrough technology for machining one of the most difficult materials – titanium," says Bernie McConnell, Executive Vice President - Commercial at Greenleaf Corporation. "We are proud of our R&D team for again raising the bar and delivering a new titanium turning grade that offers increased value and productivity to our customers."
Additional Products from Greenleaf Corp.