October 19, 2021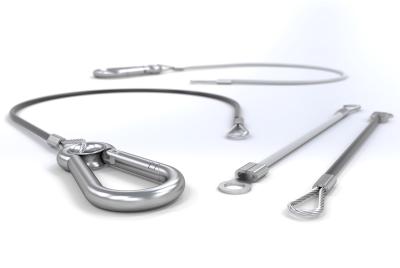 A new carabiner clip and lanyard enables faster and safer operation by providing a secure linkage between an operator and their equipment. The carabiner and lanyard kit by WDS Components Ltd removes the danger of the operator dropping tools or becoming separated from live machinery thanks to the carabiner and lanyard's secure connection. The kits are intended for OEM integration as well as personal use by maintenance staff and machinery operators.
The carabiner, which includes a hook with a sprung snap-lock device, is permanently fixed to a lanyard via a safety ring. The opposing end of the lanyard is designed in a loop that can be fixed to tools or equipment and can also be connected with an optional keyring. The carabiner and lanyard system retains dropped items and keeps them within easy reach of the operator.
The carabiner and lanyard kit removes the potential of dropping items in areas with an increased safety risk, or above environments where retrieval would be time consuming, difficult or impossible. As a result, the system makes working safer, faster and removes the danger and cost associated with losing tools and equipment. The kit is intended for applications involving working at height or environments such as marine. The carabiner and lanyard kit can also be used to remove the risk of an operator becoming separated from machinery, such as connecting a pilot of a boat or jet ski to a kill switch.
The carabiner provides a quick release snap-on mechanism and is constructed from durable 304 grade stainless steel, making it resistant to corrosion and ideal for use in marine environments. The lanyard is also made from 304 grade stainless steel and features a nylon jacket to remove abrasion, which is available in clear or black. Length of the lanyard ranges from 100mm up to 508mm and the optional keyring can be fitted by the end user.
The carabiner and lanyard kits are available in single units for individual users through to high volume order quantities for OEMs. CAD files in all major formats are available on as well as 3D images that can be viewed with standard software. Shipping is available on a same-day basis and items can be delivered worldwide.