May 10, 2018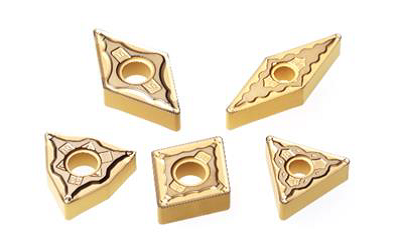 Kyocera Corp. announced that it has developed a new ultradurable coating technology and base material for indexable industrial cutting tool inserts to improve steel machining. The new CA025P CVD coated carbide grade will be available to the U.S. market from the middle of May 2018.
Steel is often used in numerous industries including automotive and industrial machining. There is a growing demand for long-lasting inserts with excellent resistance against wear, fracturing and chipping capable of stable machining performance over a wide range of cutting conditions. Kyocera's new industrial cutting tool series features multilayer CVD coatings with a layer using a thick film of aluminum oxide (Al2O3) for excellent heat resistance. Utilizing cemented carbide as a base material ensures excellent fracture resistance, long-term performance, and longer tool life. These new cutting tools can accommodate a wide range of machining applications from roughing to finishing by using a variety of chipbreakers. Kyocera aims to support customers by reducing the frequency of insert replacements and improving production yield.
The thick film aluminum oxide (Al2O3) with excellent heat resistance is applied to the new base material as one of its coating layers. This material ensures longer tool life by reducing the amount of wear. During the cutting process, the unique surface structure of the coating resists welding and chipping of the insert.
The optimized composition of the cemented carbide base material is resistant to high temperatures. This helps prevent fracturing of the insert.
The new CVD inserts can accommodate a wide range of steel machining applications from roughing to finishing with the availability of four different chipbreaker styles (PG for medium to roughing, GS for medium to roughing, PQ for finishing to medium, and PP for finishing).
Related Glossary Terms
aluminum oxide


aluminum oxide

Aluminum oxide, also known as corundum, is used in grinding wheels. The chemical formula is Al2O3. Aluminum oxide is the base for ceramics, which are used in cutting tools for high-speed machining with light chip removal. Aluminum oxide is widely used as coating material applied to carbide substrates by chemical vapor deposition. Coated carbide inserts with Al2O3 layers withstand high cutting speeds, as well as abrasive and crater wear.

chemical vapor deposition ( CVD)


chemical vapor deposition ( CVD)

High-temperature (1,000° C or higher), atmosphere-controlled process in which a chemical reaction is induced for the purpose of depositing a coating 2µm to 12µm thick on a tool's surface. See coated tools; PVD, physical vapor deposition.

chipbreaker


chipbreaker

Groove or other tool geometry that breaks chips into small fragments as they come off the workpiece. Designed to prevent chips from becoming so long that they are difficult to control, catch in turning parts and cause safety problems.