July 01, 2011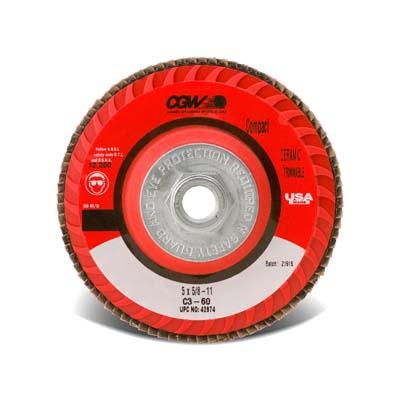 CGW-Camel Grinding Wheels has expanded its trimmable flap disc line with the introduction of trimmable C3 ceramic flap discs.
The new flap discs have a disc backing designed to trim down to expose ceramic flaps for extended working life, allowing for fewer disc changes and longer production times.
The new U.S.-made, trimmable C3 flap discs have a hybrid compact flap design that compresses and compacts flaps at a four-degree angle for additional edge strength and 20 percent more material than regular C3 flap discs.
Manufactured from self-sharpening ceramic grain and a strong polyester flap backing, the new discs are recommended for aggressive cutting action on hard-to-grind materials such as stainless steel. C3 flap discs also provide contaminate-free results and will not rust stainless steel. The new flap discs are available in 4 ½- and 5-inch diameters, with 7/8-inch arbor holes or 5⁄8-11 hub and grit sizes of 40, 60 or 80.
Related Glossary Terms
arbor


arbor

Shaft used for rotary support in machining applications. In grinding, the spindle for mounting the wheel; in milling and other cutting operations, the shaft for mounting the cutter.

backing


backing

1. Flexible portion of a bandsaw blade. 2. Support material behind the cutting edge of a tool. 3. Base material for coated abrasives.

grinding


grinding

Machining operation in which material is removed from the workpiece by a powered abrasive wheel, stone, belt, paste, sheet, compound, slurry, etc. Takes various forms: surface grinding (creates flat and/or squared surfaces); cylindrical grinding (for external cylindrical and tapered shapes, fillets, undercuts, etc.); centerless grinding; chamfering; thread and form grinding; tool and cutter grinding; offhand grinding; lapping and polishing (grinding with extremely fine grits to create ultrasmooth surfaces); honing; and disc grinding.