June 04, 2020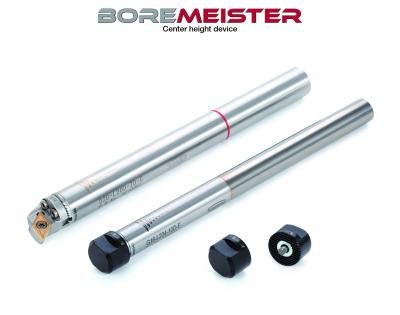 Tungaloy is expanding its BoreMeister series, a vibration-free deep boring tool system, to include a setting device for easy and systematic setup of the center height.
BoreMeister is designed to ensure vibration-free boring operations in a long overhang setup of up to 10xD through a dampener inside the tool body. The majority of BoreMeister customers' use these tools to eliminate chatter and other unstable elements during long overhang machining to gain productivity and surface integrity.
Setting the tool to the correct center height is one of the important factors to achieve the right dimension tolerances and surface integrity of the component. The new setting device enables easy, systematic, and accurate settings of tool center height. Its serrated interface with a magnetic locator in the center makes attachment and detachment to the tool body easy and accurate. The setting device comes in two sizes: AVC-SET16-25 covers BoreMeister diameters 16, 20, and 25 mm and AVC-SET32-60 diameters 32, 40, 50, and 60 mm.
At a Glance
Vibration-free deep boring of up to 10xD is possible thanks to its unique vibration dampening feature
Easy and accurate settings of tool center height is possible
Introducing devices in 2 sizes
Related Glossary Terms
boring


boring

Enlarging a hole that already has been drilled or cored. Generally, it is an operation of truing the previously drilled hole with a single-point, lathe-type tool. Boring is essentially internal turning, in that usually a single-point cutting tool forms the internal shape. Some tools are available with two cutting edges to balance cutting forces.

chatter


chatter

Condition of vibration involving the machine, workpiece and cutting tool. Once this condition arises, it is often self-sustaining until the problem is corrected. Chatter can be identified when lines or grooves appear at regular intervals in the workpiece. These lines or grooves are caused by the teeth of the cutter as they vibrate in and out of the workpiece and their spacing depends on the frequency of vibration.
Additional Products from Tungaloy America Inc.