February 03, 2022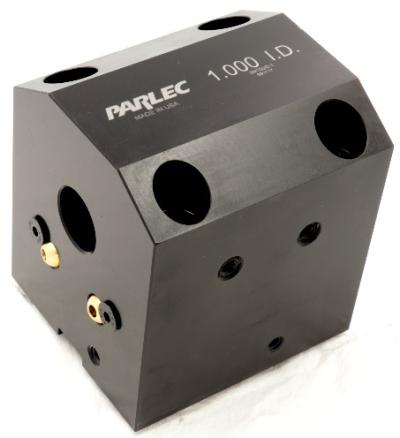 Parlec, a member of Techniks Tool Group, has release a line of made-in-USA BMT65 tool holders made from ductile iron.
According to Parlec, ductile iron has 6.6X the vibration damping properties of alloy steels enhancing cutting tool performance and extending tool life. Also, the higher graphite content of ductile iron reduces friction and prevents premature wear of the tool holder. Parlec BMT65 tool holders fit on many BMT65 lathe turrets including Haas, Doosan, Daewoo, Hwacheon, Hyundai, and others.
Parlec BMT65 tool holders are available in I.D. styles for 1", 1-1/2" 25mm, and 40mm tool diameters for single-sided holders and in 1-1/4" for double-sided holders. O.D. style holders are available in 1" and 25mm for both single and double-sided setups.
Related Glossary Terms
alloy steels


alloy steels

Steel containing specified quantities of alloying elements (other than carbon and the commonly accepted amounts of manganese, sulfur and phosphorus) added to cause changes in the metal's mechanical and/or physical properties. Principal alloying elements are nickel, chromium, molybdenum and silicon. Some grades of alloy steels contain one or more of these elements: vanadium, boron, lead and copper.

lathe


lathe

Turning machine capable of sawing, milling, grinding, gear-cutting, drilling, reaming, boring, threading, facing, chamfering, grooving, knurling, spinning, parting, necking, taper-cutting, and cam- and eccentric-cutting, as well as step- and straight-turning. Comes in a variety of forms, ranging from manual to semiautomatic to fully automatic, with major types being engine lathes, turning and contouring lathes, turret lathes and numerical-control lathes. The engine lathe consists of a headstock and spindle, tailstock, bed, carriage (complete with apron) and cross slides. Features include gear- (speed) and feed-selector levers, toolpost, compound rest, lead screw and reversing lead screw, threading dial and rapid-traverse lever. Special lathe types include through-the-spindle, camshaft and crankshaft, brake drum and rotor, spinning and gun-barrel machines. Toolroom and bench lathes are used for precision work; the former for tool-and-die work and similar tasks, the latter for small workpieces (instruments, watches), normally without a power feed. Models are typically designated according to their "swing," or the largest-diameter workpiece that can be rotated; bed length, or the distance between centers; and horsepower generated. See turning machine.