February 20, 2019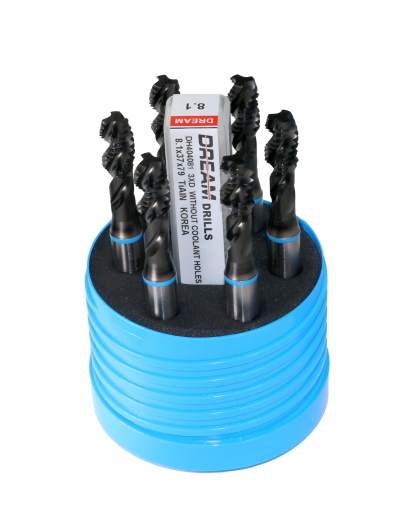 YG-1 announced its latest promotion on its world-renowned Blue Ring Tap lineup. The promotion features 28 individual tap bundles, including spiral-flute and spiral-point taps in inch and metric sizes.
According to Mark Ford, director of product management holemaking and threading, "The bundles offer shop owners and machinists three significant ways to save time and money. Number one—lower cost per hole through optimized geometry and YG-1's exclusive Hardslick Coating that also provides longer tool life. Second, higher productivity in HSS-PM material through smooth chip evacuation and the tap's ability to handle greater spindle speeds. And finally more value. Each kit in all configurations, features a free carbide Dream Drill, sized for the taps provided in each bundle."
All tap bundles come conveniently packaged as a six-pack in a durable foam-mounted display cup. "This promotion is definitely a win-win for our customer—legendary Blue Ring Tap performance and a free Dream Drill—all at very attractive bundle price," Ford said.
Related Glossary Terms
tap


tap

Cylindrical tool that cuts internal threads and has flutes to remove chips and carry tapping fluid to the point of cut. Normally used on a drill press or tapping machine but also may be operated manually. See tapping.

threading


threading

Process of both external (e.g., thread milling) and internal (e.g., tapping, thread milling) cutting, turning and rolling of threads into particular material. Standardized specifications are available to determine the desired results of the threading process. Numerous thread-series designations are written for specific applications. Threading often is performed on a lathe. Specifications such as thread height are critical in determining the strength of the threads. The material used is taken into consideration in determining the expected results of any particular application for that threaded piece. In external threading, a calculated depth is required as well as a particular angle to the cut. To perform internal threading, the exact diameter to bore the hole is critical before threading. The threads are distinguished from one another by the amount of tolerance and/or allowance that is specified. See turning.