June 01, 2014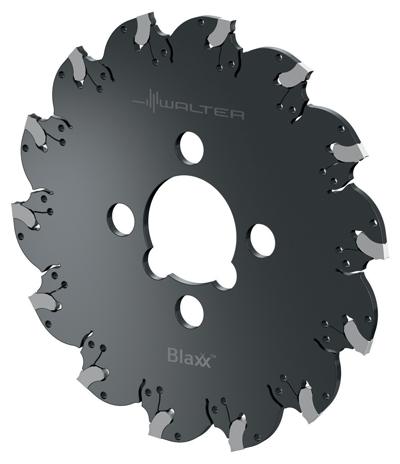 Blaxx F5055 slitting cutter from Walter USA LLC reportedly features robust and accurate construction with superior performance and process reliability that characterizes the Blaxx line. In addition, the superior concentric and axial run-out values of the F5055 cutter body keeps vibration to a minimum. The mill incorporates similar technology to the Walter Cut SX grooving system which is based on self-gripping, form-locking indexable inserts that provide ideal cutting force for the tool.
The productivity of the F5055 is further enhanced by Walter's Tiger-tec Silver cutting tool material. This advanced material is available in two grades, WSM33S and WSP43S, and in three insert geometries. The stable CE4 geometry is for medium to high feed rates and applications with good chip removal, the universal SF5 for most materials and low to medium feed rates, and the easy-cutting CF6 for good machining conditions and low feed rates or for non-ferrous metals. Walter supplies the F5055 in diameters of 63 to 250mm for insert widths of 2.0 to 4.0mm. Thanks to the universal performance of the cutting tool material, the F5055 is suitable for cast-iron, steel and stainless steel components.
Moreover, it can also handle materials with difficult cutting properties, making it suitable for the aerospace industry, where the production of large volumes of the highest quality components, typically made from difficult to cut material, demands tools with exceptional reliability.