October 14, 2021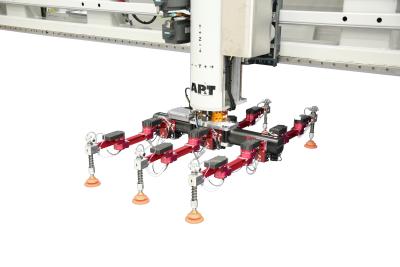 Together with Norgren, AP&T has developed a turnkey system for quick handling and feeding of different blank formats, entirely without time-consuming gripper changes. A solution that may save time, space and money for many customers, not least in the automotive industry.
"By combining our rapid blank feeder with Norgren's Transforming Tooling gripper system, we can offer a complete, fully automated, turnkey solution for efficient movement of blanks in varying formats, without gripper changes," says Christer Bäckdahl, Chief Technology Officer at AP&T.
For manufacturers who produce different components on the same line, and therefore need to regularly change grippers, this system is highly beneficial. One and the same programmable gripper solution is used to handle all blanks, regardless of shape and size. The transition is automatic and takes less than two minutes.
"Not having to switch between grippers is primarily a time-saver, which has a positive impact on our manufacturing capacity. Nor do we need to dedicate valuable space on-site to store various grippers or risk injuring staff or damaging tools during handling."
The system's constituent component parts are thoroughly tested and fully integrated through AP&T's control system to provide safe, reliable operations and simple handling.
"All functions are controlled by the latest generation of our established LOGOS interface and are very easy to manage," says Christer Bäckdahl.
The new system is part of AP&T's global offering and is marketed by both AP&T and Norgren.
Facts
Turnkey, fully integrated, user-friendly solution for quick, efficient blank feeding, jointly developed by AP&T and Norgren.
Norgren Transforming Tooling, programmable gripper solution.
AP&T's Destacker blank feeder, control system and user interface.
Suitable for all applications requiring various grippers, such as Front-of-Line Destackers and charging stations.
Automatic, quick and secure transitioning between blank types.
Tried and tested, highly reliable technology.