October 14, 2019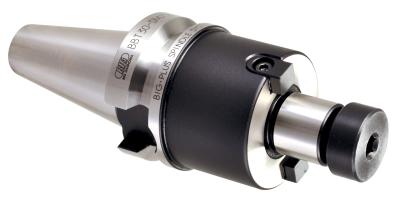 BIG KAISER has added inch standard sizes for the U.S. market to the production of its BIG-PLUS BBT30 basic arbors (shell mill holders, endmill holders, shrink fit and blanks). The expansion allows for enhancements to the BBT30 program that satisfy demands specific to the North American market.
Custom tools can be ordered, produced and delivered more quickly.
An inch-based BBT30 shrink fit series is being introduced to complement the 10 metric sizes currently offered. Standard items available in sizes 1/4", 3/8", 1/2", 5/8" and 3/4".
A single blank size has been added to give customers the ability to make special tools on their own. Additional grinding services and custom manufacturing are available.
Related Glossary Terms
endmill


endmill

Milling cutter held by its shank that cuts on its periphery and, if so configured, on its free end. Takes a variety of shapes (single- and double-end, roughing, ballnose and cup-end) and sizes (stub, medium, long and extra-long). Also comes with differing numbers of flutes.

grinding


grinding

Machining operation in which material is removed from the workpiece by a powered abrasive wheel, stone, belt, paste, sheet, compound, slurry, etc. Takes various forms: surface grinding (creates flat and/or squared surfaces); cylindrical grinding (for external cylindrical and tapered shapes, fillets, undercuts, etc.); centerless grinding; chamfering; thread and form grinding; tool and cutter grinding; offhand grinding; lapping and polishing (grinding with extremely fine grits to create ultrasmooth surfaces); honing; and disc grinding.

milling machine ( mill)


milling machine ( mill)

Runs endmills and arbor-mounted milling cutters. Features include a head with a spindle that drives the cutters; a column, knee and table that provide motion in the three Cartesian axes; and a base that supports the components and houses the cutting-fluid pump and reservoir. The work is mounted on the table and fed into the rotating cutter or endmill to accomplish the milling steps; vertical milling machines also feed endmills into the work by means of a spindle-mounted quill. Models range from small manual machines to big bed-type and duplex mills. All take one of three basic forms: vertical, horizontal or convertible horizontal/vertical. Vertical machines may be knee-type (the table is mounted on a knee that can be elevated) or bed-type (the table is securely supported and only moves horizontally). In general, horizontal machines are bigger and more powerful, while vertical machines are lighter but more versatile and easier to set up and operate.