March 01, 2011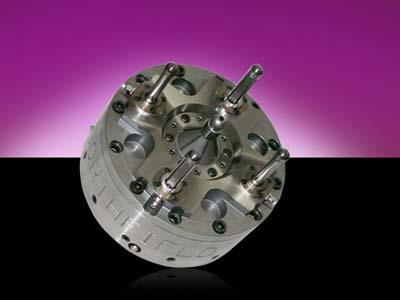 Northfield Precision Instrument Corp., a leader in the design and manufacture of precision workholding chucks, introduces their Automobile Rubber Grip chuck. This special chuck grips automotive "rubber coupling" drive shaft joints. The small collet in the center grips a 14mm I.D. to an accuracy of less than 1⁄10,000" T.I.R. The (3) extended fingers pass thru (3) bolt holes, expand, and "Face Clamp" only. These fingers simulate "Bolting" the flange in place the way it is used in the vehicles. Drive shafts are balanced from 3,500 rpm to over 6,000 rpm.
Related Glossary Terms
chuck


chuck

Workholding device that affixes to a mill, lathe or drill-press spindle. It holds a tool or workpiece by one end, allowing it to be rotated. May also be fitted to the machine table to hold a workpiece. Two or more adjustable jaws actually hold the tool or part. May be actuated manually, pneumatically, hydraulically or electrically. See collet.

collet


collet

Flexible-sided device that secures a tool or workpiece. Similar in function to a chuck, but can accommodate only a narrow size range. Typically provides greater gripping force and precision than a chuck. See chuck.