May 06, 2019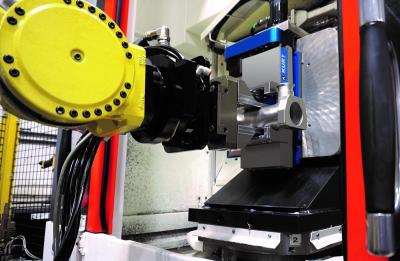 When an equipment manufacturer wanted to automate part clamping for a high-volume casting to be machined in a robot attended machining cell they turned to Kurt Workholding custom engineers for support. After reviewing the initial machining cell and part requirements, Kurt engineers drew upon past workholding experience and designs along with some new developing ideas in air powering workholding systems.
With shop air readily available in most manufacturing plants, Kurt engineers selected to work with the available air supply versus deploying an additional, costly hydraulic pump system. Drawing upon the Kurt 3600V vise design with robust clamping repeatability, Kurt engineers integrated a newly developed air motor configuration along the outside of the vise base to actuate the moveable jaws. The new system included all air motor components, sensors for predetermined jaw stop, push-to-connect air fittings and sine keys for table mounting.
The Kurt motorized air vises provide consistent preset clamping force and programmability of the vise opening if desired. These air vises integrate with automation, robotized cells, and applications requiring consistent clamping not easily attained by manual operation.
This air motor option is available on most Kurt vises including the all-new DX6 vise, plus most Kurt single-station and double-station vises ranging in sizes of 4-, 6- and 8-inch models and is also available on smaller vise models such Model SCMX420. Additional options are available for adding encoder for programmability or an optional screw with double start threads to increase stroke speed.
Related Glossary Terms
shop air


shop air

Pressurized air system that cools the workpiece and tool when machining dry. Also refers to central pneumatic system.