December 11, 2018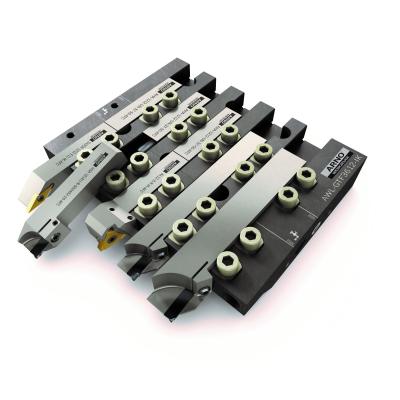 ARNO Werkzeuge USA introduces its new Auto Fast Change (AFC) Tool Systems for Swiss-style machining. Manufacturing Swiss tooling since the 1940s, ARNO has comprehensive understanding of the needs and issues that machining operations face with their Swiss-style auto lathes and turning machinery.

The new Quick-change tool system from ARNO USA provides faster setups and reduces the downtime with in-process tool changes in Swiss-style machining operations. It also eliminates the need for external plumbing to facilitate cooling. The mess and problems created by excess chips and debris mixed-in with coolant inside the machine is minimized as well. The ARNO AFC comes pre-configured with built-in through-coolant capabilities. In total, there are five inlets for porting the coolant on the AFC toolholder block that operators can use to direct coolant flow.

Anyone who uses Swiss style auto lathes knows there is great difficulty in changing tools and inserts easily. Quarters are very tight, and these machines contain many tools that are in close proximity. Physically getting inside these machines is awkward for tool changeovers.

The AFC system is comprised of a two-piece, universal toolholder mounted inside the machine. A separate quick-change toolholder slides into the end of the stationary block and locks in to place simply by giving two screws a quarter-turn each. The simplicity of the ARNO AFC design makes changeovers extremely easy, fast and efficient for Swiss-style machining.