June 27, 2022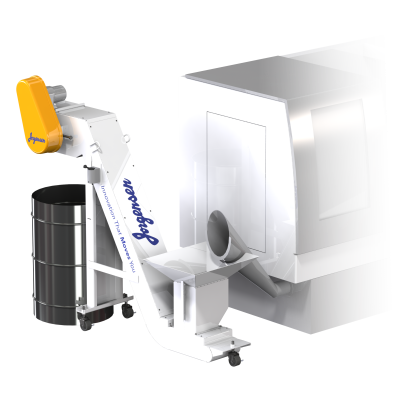 The Jorgensen Conveyor and Filtration Solutions Auger Assist Conveyor with a 48'' discharge height allows the use of larger collection bins and eliminates the need for frequent hopper unloads on today's auger-driven machine tools. For increased production, the system enables machines to handle higher chip volumes and reduces the amount of labor needed for chip hopper management. 
Extremely versatile and adaptable, chute direction on the new Auger Assist Conveyor easily rotates 90 degrees in either direction, giving the conveyor and discharge multiple positioning options to meet customer needs and save valuable floor space. Additionally, seven inches of discharge height adjustment allow the load chute to adapt to many different machine tool models.  
The unit incorporates a baffled chute to efficiently direct chips. The chute easily mates with a variety of CNC machines using auger chip removal systems. The Auger Assist also features a coolant collection tank and drain plug to reclaim coolant. The Auger Assist can be used as a stand-alone solution or as the first step in an entire chip processing system. 
Complementing its four-foot discharge height, the Auger Assist is compact and maneuverable with a small, 70- X 74- X 23-inch frame on swivel wheels. The Auger Assist's pre-engineered design allows for quick delivery.
Related Glossary Terms
computer numerical control ( CNC)


computer numerical control ( CNC)

Microprocessor-based controller dedicated to a machine tool that permits the creation or modification of parts. Programmed numerical control activates the machine's servos and spindle drives and controls the various machining operations. See DNC, direct numerical control; NC, numerical control.

coolant


coolant

Fluid that reduces temperature buildup at the tool/workpiece interface during machining. Normally takes the form of a liquid such as soluble or chemical mixtures (semisynthetic, synthetic) but can be pressurized air or other gas. Because of water's ability to absorb great quantities of heat, it is widely used as a coolant and vehicle for various cutting compounds, with the water-to-compound ratio varying with the machining task. See cutting fluid; semisynthetic cutting fluid; soluble-oil cutting fluid; synthetic cutting fluid.