March 17, 2022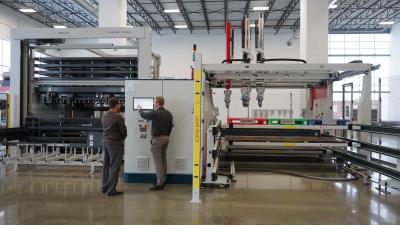 MC Machinery Systems is offering on-site demos of the new ASTES4 High Speed ADVANCED, a modular sorting system that can cut sort times in half, reduce labor costs, improve throughput and eliminate bottlenecks.
The new system is a solution for fabricators facing worker shortages and bottlenecks resulting from the increased productivity of higher-volume fiber lasers. The high-speed modular sorting solution significantly maximizes the productivity and efficiency of downstream operations.
The ASTES4 High Speed ADVANCED can be integrated with the SmartFlex RAPID automated sheet loader and a Mitsubishi fiber or CO2 laser.
The ASTES4 High Speed ADVANCED features:
A patented, integrated tool-changer head with six programmable tools

Four sorting heads with a capacity of up to 220 pounds per head

Mitsubishi Drive components that allow seamless communication between the control, servos and drive system

Multiple customizable configurations

Tighter proximity between picking heads
Benefits of the new laser automation system include:
Can reduce sorting time by half

Elimination of manual tool changing

Increased worker safety

The ability to run unattended

Lower labor costs

Reduced setup time

High-speed precision, with a high success rate of picks even at high speeds

Reliability
The ASTES4 High Speed ADVANCED features multiple tools on each head, including:
Single suction cup tool

Magnet tool (featuring two sizes)

Multi-suction cup tool

Dual-oval suction cup tool

Out-of-center tool for small or heavy parts that require two lifting points
"The ASTES4 High Speed ADVANCED can solve problems faced by just about every fabricator, including worker shortages, high labor costs, production bottlenecks and more," said MC Machinery North American Sales Manager for Fabrication Shane Herendeen. "The patented tool-changer head with programmable tools makes it the most adaptable and customizable sort system available."
ASTES4 SA is a Swiss-based company acquired by Mitsubishi Electric in 2018. MC Machinery Systems, headquartered in Elk Grove Village, Ill., is a subsidiary of the Mitsubishi Corp. and a Mitsubishi Electric automated solutions partner.
To arrange an in-person demo of the ASTES4 High Speed ADVANCED at MC Machinery's Chicago-area headquarters, visit https://www.mcmachinery.com/astes-hs-advanced.