May 05, 2022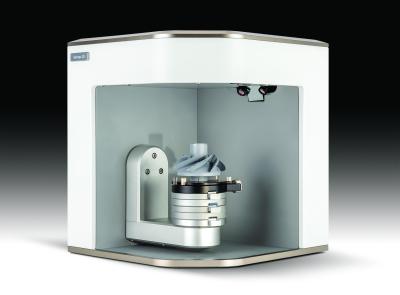 Exact Metrology Announces the Next Generation of Artec Micro
Exact Metrology, a division of In-Place Machining Company and a comprehensive 3D metrology service provider and hardware sales company, now offers the newest version of its Artec Micro scanner. This new model distinguishes itself through its professional ultra-high precision industrial desktop 3D scanner, designed to deliver industrial-quality scans in just one click.
With a 2-year warranty, features of the Artec Micro include up to 10 microns accuracy and is perfect for quality testing and reverse engineering. It produces metrology-grade scans suitable for quality control, while removing the need for targets on the scanned object.
Artec Micro's advanced twin color cameras and blue LED lights are synchronized with the scanner's dual-axis rotation system to create a digital copy of your object with a minimum of frames captured. In addition, the Smart Scanning mode captures every surface of the object in the least amount of time, using an ideal number of frames. A minimum amount of training is required with Micro, as the scanner is user-friendly and ready to set up quickly. The scanner integrates with Artec Studio for real-time digital capture.
Delivering highly accurate scans, not only can Micro "see" well below the human visibility threshold of 40 microns, but its 3D measurements are among the best in today's cutting edge scanners, making it a perfect choice for inspection and much more. Reverse engineering is completed with Artec Micro's precise 3D measurement to digitally fit together legacy parts with those customers create, capturing even the smallest details that most scanners miss.
In minutes, Artec Micro transforms intricate items into CAD/CAM data for design, modification, 3D printing and casting. As a result, this saves hours of time in the design and production of complex pieces. The scanner also creates highly-detailed 3D models.
Related Glossary Terms
metrology


metrology

Science of measurement; the principles on which precision machining, quality control and inspection are based. See precision machining, measurement.

quality assurance ( quality control)


quality assurance ( quality control)

Terms denoting a formal program for monitoring product quality. The denotations are the same, but QC typically connotes a more traditional postmachining inspection system, while QA implies a more comprehensive approach, with emphasis on "total quality," broad quality principles, statistical process control and other statistical methods.