August 14, 2018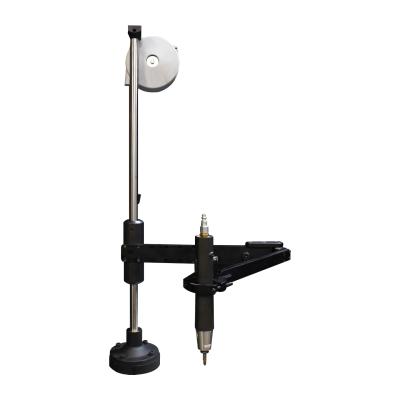 FlexArm Inc. introduces the AR-40 Articulating Torque Reaction Arm, for enhanced operator ergonomics and improved production quality. Occupying a small footprint, it delivers up to 40 ft/lbs of torque reaction through a working range of 4 ¼ to 27 inches.
Tools up to 10-pounds and 1-2" in diameter can be maneuvered with complete freedom of movement without the operator having to support the tool weight. This greatly enhances ergonomics and eliminates tool use injuries, while improving production quality by maintaining tool perpendicularity. Equally suited for either vertical or horizontal fastening orientations, the AR-40 is completely mechanical, with no external power source required.
A cable balancer, calibrated to tool weight and torque, allows weight adjustment at the operator's fingertips. Universal mounting and a small footprint allows it to seamlessly integrate into virtually any manufacturing environment. With many uses, an economical price-point, and a short lead time (3-5 days typically), the AR-40 is suitable for a range of fastening, joining and assembly operations.
An optional tool-specific vertical rotation clamp is available for use with right angle nut runners when fastening orientation requirement is horizontal only. A pistol grip v-block allows use with pistol grip tools for horizontal orientation. A horizontal v-block for use with nut runners when fastening orientation requirement is vertical only is also available. The versatile AR-40 can be mounted onto a table, cart, pedestal or with optional kit in an overhead configuration. An upper pole clamp is recommended if the arm is frequently used at the top of its stroke. A 30-day free trial period allows all FlexArm products to be proven in-plant under actual production conditions.
In addition to the AR-40 model detailed above, other FlexArm torque reaction to support tools, parts and other payloads from 10 to 60 pounds, and from 10 to 800 ft/lbs of torque are available. Engineers can discuss unique project parameters and offer solutions based on decades of experience.
Related Glossary Terms
V-block


V-block

Workholding device with V-shaped slot for holding pipe and other round stock during machining or inspection.