November 20, 2017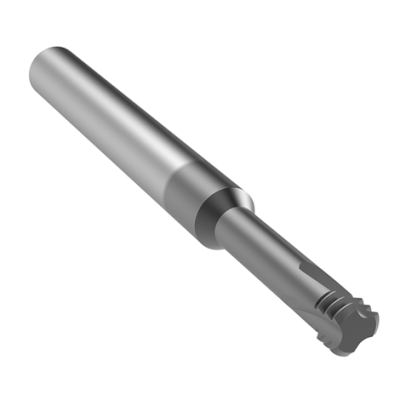 Allied Machine & Engineering adds the AccuThread T3 to their existing thread mill line. The new AccuThread T3 is built for machining hardened or hard-to-machine materials, such as stainless steel, tool steel and high-temperature alloys.
It is designed to machine only three threads at a time, reducing tool pressure and dramatically increasing the chances of tool survival. The T3 will provide a longer tool life, less tool breakage and higher quality threads for machinists.
Offered in both inch-shank and metric-shank options, the AccuThread T3 is made for deeper-than-standard threads, available in 2xD and 3xD. Additional diameters are available on request. Allied offers this thread mill for UN thread forms with pitches from #1-64 to 9/16"-12 as well as ISO thread forms with pitches from M2x.4 to M12x1.75. In addition, Allied Machine & Engineering provides their premium AM210 coating to these thread mills to protect from excess wear and improve tool life.
Related Glossary Terms
alloys


alloys

Substances having metallic properties and being composed of two or more chemical elements of which at least one is a metal.

milling machine ( mill)


milling machine ( mill)

Runs endmills and arbor-mounted milling cutters. Features include a head with a spindle that drives the cutters; a column, knee and table that provide motion in the three Cartesian axes; and a base that supports the components and houses the cutting-fluid pump and reservoir. The work is mounted on the table and fed into the rotating cutter or endmill to accomplish the milling steps; vertical milling machines also feed endmills into the work by means of a spindle-mounted quill. Models range from small manual machines to big bed-type and duplex mills. All take one of three basic forms: vertical, horizontal or convertible horizontal/vertical. Vertical machines may be knee-type (the table is mounted on a knee that can be elevated) or bed-type (the table is securely supported and only moves horizontally). In general, horizontal machines are bigger and more powerful, while vertical machines are lighter but more versatile and easier to set up and operate.