October 13, 2016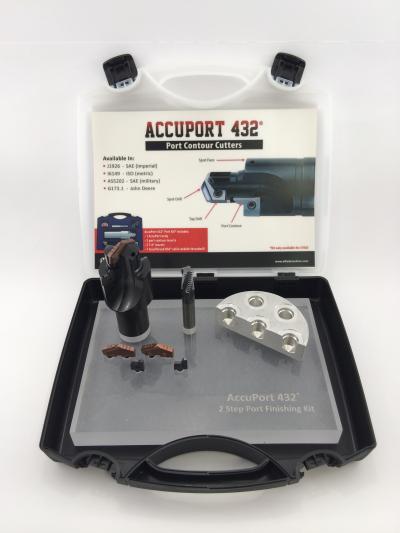 Allied Machine & Engineering announces the expansion of its AccuPort 432/AccuThread 856 program to include more than 120 kits for manufacturing hydraulic ports and manifolds. The kits are available to meet SAE J1926, ISO I6149, John Deere G1731 and SAE AS5202 (aerospace standard/Mil-Spec) specifications.
Contained in each kit is everything necessary to cut and finish the port, including an AccuPort 432 port contour cutter, T-A or GEN2 T-A pilot insert(s), port form inserts, and an AccuThread 856 thread mill. Kits have a 5-day lead time if not in stock.
The J1926 and I6149 specification kits are ideal for heavy equipment applications, and are available in both metric and imperial shanks for both ferrous and nonferrous applications. The G1731 specification with a metric shank is designed for cast iron applications, and the AS5202 comes with an imperial shank for both ferrous and nonferrous applications.
The AccuPort 432 port contour cutters enable users to drill and finish port forms in one operation. Produced to strict manufacturing tolerances that meet each specification's finish tolerances, the patented design is ideal for ports and stud ends with straight threads and O-ring sealing. The AccuPort 432 eliminates the need for predrilling and allows for efficient setup and production time. The replaceable insert design eliminates regrinding and resetting.
Allied says its proprietary AM210 coating provides a 25 to 50 percent increase in tool life over other competitive options. With a thicker core and helical flute, AccuThread 856 solid-carbide thread mills offer increased strength and rigidity when cutting forces are applied. Standard cutting lengths permit multiple applications without special thread mills.
Related Glossary Terms
milling machine ( mill)


milling machine ( mill)

Runs endmills and arbor-mounted milling cutters. Features include a head with a spindle that drives the cutters; a column, knee and table that provide motion in the three Cartesian axes; and a base that supports the components and houses the cutting-fluid pump and reservoir. The work is mounted on the table and fed into the rotating cutter or endmill to accomplish the milling steps; vertical milling machines also feed endmills into the work by means of a spindle-mounted quill. Models range from small manual machines to big bed-type and duplex mills. All take one of three basic forms: vertical, horizontal or convertible horizontal/vertical. Vertical machines may be knee-type (the table is mounted on a knee that can be elevated) or bed-type (the table is securely supported and only moves horizontally). In general, horizontal machines are bigger and more powerful, while vertical machines are lighter but more versatile and easier to set up and operate.

shank


shank

Main body of a tool; the portion of a drill or similar end-held tool that fits into a collet, chuck or similar mounting device.